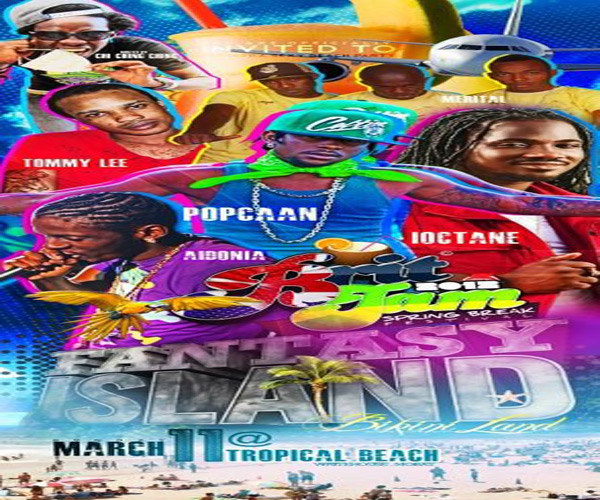 March 11 Mobay  Jamaica,Brit Jam Fantasy Island Spring Break Festival is approaching and the line up is craaazy : I-Octane, Popcaan, Tommy Lee, Aidonia, Merital and more. Check out the flyer and don't miss out.
Popcaan Ft Busta Rhymes – Only Man She Want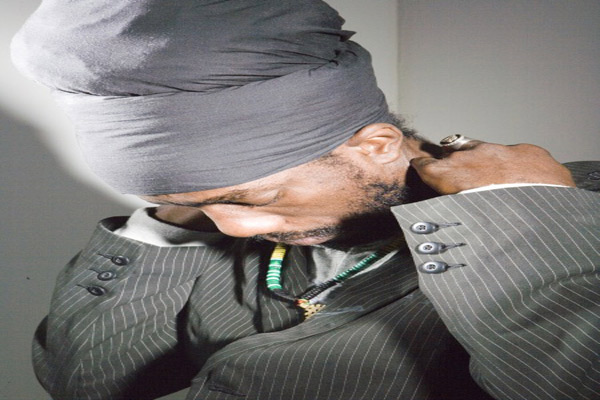 Another live show to don't miss is the acoustic return on stage of Reggae superstar, Sizzla Kalonji, that  recuperated well from the motorcycle crash that injured him severely last year.On March 18. Mr Miguel Orlando Collins, aka Sizzla, will perform live at the event "Sizzla: Unplugged and Acoustic", at Club Privelege in New Kingston, the show will  start early, 8 p.m.
Proceeds from the event will go towards providing medical support for a child in desperate need of life-saving surgery.

Sizzla will team up with legendary Dancehall/Reggae producers, Sly and Robbie as well as  violinist, Jessica Yap. And guess who will host and perform at the after party? Popcaan Hotskull.

Check out Sizzla in Foolishness on Master's Blend Riddim from January 2012 and also in Bumbo Now- Breadback Prod. from last month. Re-posting it because is pure fiyah! Maaad!


SIZZLA – FOOLISHNESS

SIZZLA BUMBO NOW
Busy Signal announced  the release of his upcoming album, that will show a new side of the artist.The new album, Reggae Music Again, will be unveiled on April 24, produced by Dancehall/Reggae label, VP Records.
The Roots Reggae album features 14 tracks including the his single, Come Over. The artist said about the upcoming record "It shows my growth, versatility and the recognition of Reggae as the origin of Dancehall music. Being a Jamaican, I feel like it is my duty to highlight and contribute to Reggae music, and with the encouragement of my management and musicians who played on this record, including Dean Fraser, it all came together.
This album is like a renaissance for me, a rebirth – Reggae style," he said.

Hear him talk about his upcoming album and also re-posting Protect My Life Oh Jah On Duplicity Riddim hot tune!
Busy Signal – REGGAE Music Again: Busy Thoughts

Protect My Life Ohh Jah by Busy Signal[

youtube width="640" height="200"]http://www.youtube.com/watch?v=6l0dQYmkbDQ[/youtube]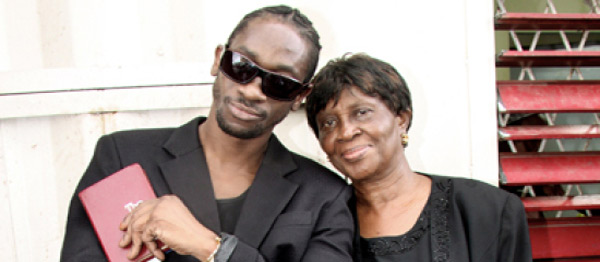 Friends, fans, family and all members of the Reggae/Dancehall industry flooded in hundreds at the Seaview Gardens on Monday night to celebrate the life of 'Mama Ivy', the mother of Dancehall icon Bounty Killer.
A lot of people went to pay respect to Miss Ivy and Bounty and their family: artist, producers, musicians, politicians,fans and the whole community .Even Vybz Kartel sent, from jail, a message to Bounty Killer expressing his condolences,the same did Bounty's long time rival Beenie Man. The whole Dancehall community expressed love for Miss Ivy and support to Bounty for his loss.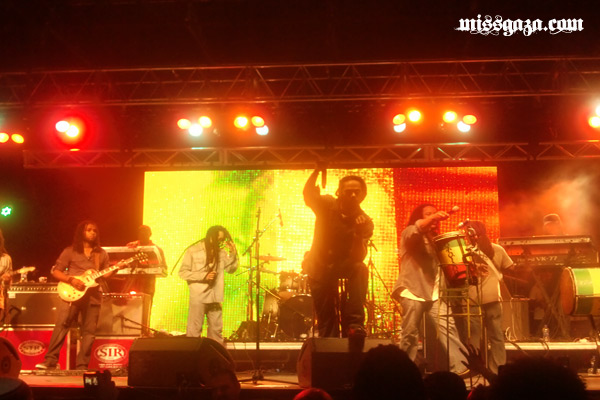 Damian Marley spent a lot of time back home, in Jamaica, in the last months where he also performed on all the important stages, one the latest was Jamaica Jazz and Blues Festival.He also stopped by  OnStage TV studios for an interview with Winford Williams: they talked about  the globalization of Reggae music and the great opportunity for Jamaican artists to reclaim their genre and create more avenues internationally. Damian Marley has been hot in the Jamaican music scene with his two most recent hits, Set Up Shop and Affairs of the Heart, which have received strong acclaim and airplay. He announced that Ghetto Youths International will soon be promoting upcoming singles for their most recent signing, Wayne Marshall.Here the full interview. Listen up Youth.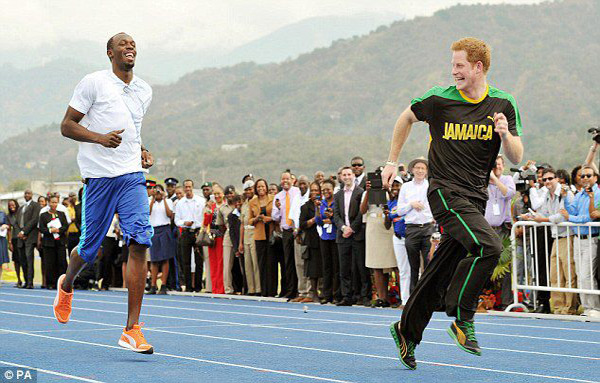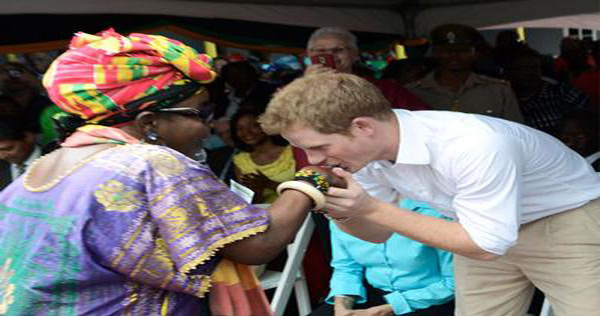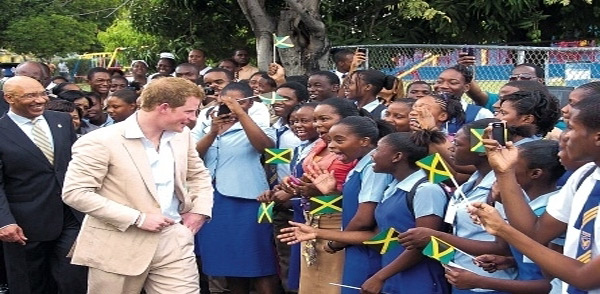 Prince Harry four days visits in Jamaica is generating quite a buzz.The Prince had the privilege to "beat" the world fastest man  Usain Bolt in a 40m track race when he cheated by jumping the gun and was also helped by the the Champion. Harry is charming Jamaicans: he kissed Rita Marley's hand,he hugged Ms Portia, hang out with the kids always sporting a huge smile and even quoted a Bob Marley's phrase, from Marley's hit Three Little Birds, sayin "Every licckle ting is going to be all right" during an official dinner. He also wanted to show off some dance moves.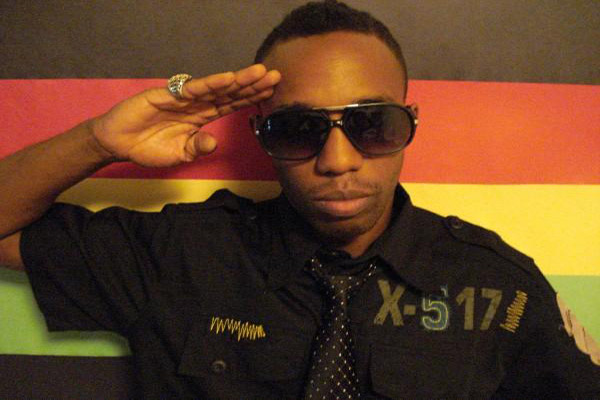 Alley Cat aka Imperial was also in Jamaica, his homeland, few weeks ago, catching up with family, friends and just basking in the Jamaica Vibe and Culture that he has missed.The artist has been traveling the world and settling down in the United States, so he tries to make this happen as often as possible.During his visit he went for appearances in Clubs, Schools, Fun Days…On Jamaica Day he performed at St. Anne's Primary School, located in Western Kingston and made an appearance at "Dutty Rock Fridays" hosted by Sean Paul & Leftside at Club Riddim in New Kingston.He is very happy about being back home and added "Being in Jamaica has been good. The respect I've received is overwhelming. People are happy to see me in parties". He also took advantage in doing collaborations with local artists, while still promoting his single with Ikaya featured on his Dancehall Knowledge Vol 2 Album. Jamaica is also the place where he is shooting two of his new singles "Don't Test" and "The Hawk"!Re-posting Don't Test with the Sound Clash Way. Maaad!

Related Posts via Taxonomies