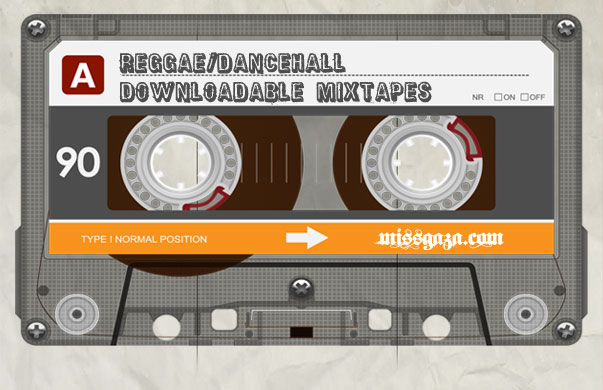 Dj FearLess' new mixtape is packed with all the latest riddims and hit songs from the most current dancehall artists. You can listen to it or download it inside.

Stream or download  one of the coolest mixtape of the year from Dj Rinse -Cashflow – Tyre Mark Da Road Runner. Mawd! Track listing and download after the jump.

Stream or download  a new DJ FearLess's mixtape -Popcaan Says -  that features the new and old tracks from Popcaan Hotskull.

Stream or download ZJ Chrome's mixtape -Untouchable volume 2 - that is already going viral after few days of being out and includes exclusive songs & freestyles like the new Tommy Lee Sparta -Don't Play.

Stream or download DJ FearLess's mixtape -Di Future - another killer mixtape with the latest Dance Hall riddims and hits of right now, including dubplates from Tommy Lee and drops from your favorite artists. Dowload the mixtape is free!

Stream or download Chronixx's mixtape - Catch A Fyah, brought to you by Walshy Fire – Major Lazer. It was  named after one of Chronixx's single that he recently voiced on the  - Game Theory Riddim – Jungle Josh Records. A reggae Mixtape  full of good vibes.

Dj Dain, Remix King brings to you more Dancehall vibes straight from Jamaica. Download Stein – Hellraiser Mixtape – Remix Edition inside. It includes 27 of the best Stein's tracks. Preview and download inside.

Check out the vol 4 of the successful serie Kenya Meets Jamaica -Slap Weh Edition brought to you by Maxxy Pin. A project that brings to you the best of Kenya & the hottest Dancehall hits from Jamaica blended in royally. Preview and download inside.

Recently hurricane Sandy left Jamaica and devastated with many without homes, water and electricity. 

DJ Dalvy

, a resident of Portland Jamaica, one of the most affected areas on the island, decided to do a Sandy mix tape. Her hope is that it will show those impacted that this too shall pass. Download it inside.

Download  

Dj I-Shasta & Higher Fidelity Sound

new mixtape for Nov 2012 –

Storms Of  Life

. This new Reggae Mixtape features a lot of good tunes with a good messages, good artists and good riddims.

A new

Dj Fearless

mixtape packed with the baddest & latest Dancehall hits, titled

Trick Or Treat

. Preview & Download after the jump.

Johnny Killah & Dev Kutta

from

Livity Movements

team up to make 73 minutes of  exclusive Dubs by  

Busy Signal

&

I-Octane

flippd on Hip Hop Beats…Really mawd!

Iron Gate Sound, from Australia, released few days ago a Dancehall mixtape packed with big tunes, big artists & dub plates. Preview & download it inside.

Jamaican Dj Heavy D presents – Best of Addi Vol 2 Mixtape including some crazy remixes and mad tracks from Vybz Kartel the Teacha. It mawd! Blast it & Download it.

Dj I-Shasta &

 

The Culture Lovers Higher Fidelity Sound

present their Culture Mixtape #9 - My Kutchie Cup Well Full Up A Vibes, 

featuring Luciano, 

Kabaka Pyramid, Bobby Hustle, Perfect Giddimani + Many More

. 

Another mawd mixtape from

Dj Fearless

, this is the sequel for

Bere Badness

and it features all the latest & hottest riddims, tunes & artists inna Dancehall right now. Preview & download inside.

This new mixtape/ podcast from

Livity Movements

is really hot like fire. All the latest Dancehall hits you need, big tunes and big artists. Preview or download the episode after the jump.

Check out

DJ Fearless Bere Badness Mixtape

including the latest & hottest songs from

Vybz Kartel, Tommy Lee Sparta, Popcaan, Konshens, Bounty, Mavado, I-Octane

& much more. Preview & Download inside.

Supa Soca 18 -Welcome To Miami

 t

he perfect sound track for this

Miami Carnival Weekend 2012 s

uper loaded by

Dj Barry Hype, Crown Prince, Dr Jay & Jester.

Some of the  hottest

Mavado'

s tunes new and not so new are featured in this brand new mixtape from

Razz & Biggy – So Suicidal. Mawd!

DJ Spawner presents a new

Tommy Lee Sparta

inspired mixtape that includes some of the latest hits released by Uncle Demon this year.

Check out

DJ Dalvi

from Kingston Jamaica & her

Jag & Pree Mixtape

volume 2 available fi download inside. Tune in her radio show going down  every week-end on radio UFDV.

This Mixtapes is really a mawd thing with all the hottest dancehall songs brought to you by

Wildcat Sound/ Cashflow Rinse/ Dj Dain

Remix King

and also featured his

Kartel's remix

for

Back To Life.

Navino

Mixtape –

Nightmare

, released a couple of days ago includes all his best hits & singles and also unreleased music. Preview or download it inside.

Dj Dev Kutta, I-Octane

personal Dj, just released this 1Drop CD

Zion Awaits Preview

.The full length mix will be available next week..so stay tuned!

Out of many (unofficial) Tommy Lee's mixtapes out there, this one from Dj Gaza Priince, titled Uncle Demon Mixtape, is one of the freshest & is very recent.

Etana The Strong One Official mixtape Raw Soul Rebel brought toyou by Dj Dredski, includes 30 uplifting and positive tracks. Download link inside.

Download or stream Konshens new mixtape -

This Is Your Konshens

-already defined "a 32 minute blend of pure fire" from Complex.

Some of the best Reggae songs & riddims in Bu

ss A Blank Reggae Mix Vol 4.

Fifty tracks including

Beres Hammond, Chris Martin, Cecile, Damian Marley

& many more. Stream or download.

A Journey Of A 1000 miles starts with this Non Stop Culture Mixtape, featuring Perfect, Jah Mason Lutan Fyah & many more. Download, stream, rate, share it! 

Check out Dj Glamaa Fyah and his tribute cd for Ja 50 Indepence Annyverary! Packed with artists like John Holt, Marcia Griffith, Bob Marley & more than 43 tracks. Stream it or download it. Don't forget to share it!

Another mad thing from Walshy Fire aka Walshy Killa from Black Chiney & Major Lazer. Get some music just in time for the London Notting Hill Carnival and check out on Walshy's schedule.

Mixed by Rico Vibes One Drop Reggae Mixtape incluses 40 tracks with new music from the baddest artists hot there like Da'Ville, Konshens, Busy Signal & many more good vibes.

Tiana the Princess of Dancehall and most def one of the baddest out there, so it's just natural that her mixtape is packed with the hottest artists .

Enjoy a collection of today latest Reggae One Drop and Lovers Rock Songs from artists like Busy Signal, Jr Gong,I-Octane,Chris Martin,Konshens & many more! 

Forty something catchy tracks are included in this fresh mixtape that is also a journey in Bugle's career. Oriel, Etana, Proppa Fade, Ding Dong and many other guests.

The inspiring story of Dj4eign including his creation  Dancehall Kings Part 1, hosted by Sean Paul. Download it or stream it but make sure to peep it!

Download, stream, Share

Da'Ville

Mixtape Vitamin D

hosted by

DJ 4eign,

including 14 mad tracks for the joy of his fans.

If you missed it check out  Gaza Man Crazy Tommy Lee mixed by DJ Neeko. Already a Gaza classic.

Second mixtape for Chan Dizzy, titled Lord Is My Witness. The previous was called Dizzyness.The mixtape contains 33 tracks and is mixed by Willy Chin. Head Concussion & Black Chiney.

Full release, preview and download –

Coppa Mi Name

mixtape produced by

Prince Villa

for

FoxLink Records

and

PV Records. T

he ting shaaat. If you are no familiar with his name you will soon be!

Dotta Coppa Dat!

Dotta Coppa has a mixtape coming out in a matter of days. Here a little preview of what to aspect and some of his best tunes.

Download the new Boardhouse Records & Assassin Agent Sasco  – River Stone Buss Dem Head Mixtape. More than 68 tracks including the biggest hits and less popular songs from Agent Sasco.

The maaaddest thing. Chromatic Presents Popcaan's Mixtape YiY Change. 

Cherine Anderson celebrates her B-day giving away her fans a very hot mixtape packed with some of her hottest songs. 

He is one of the hottest upcoming artist inna Jamaica and his mixtape Dizzyness makes clear why. Produced by Russian Head Concussion stream or download Chan Dizzy's Mixtape. It Shaat!