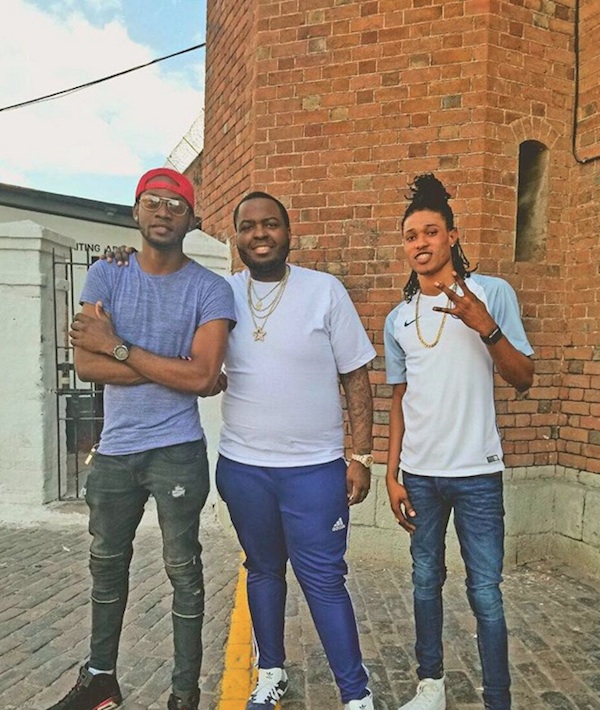 Check out the latest news on incarcerated World Boss Vybz Kartel. Popular pop reggae star Sean Kingston went to visit Vybz Kartel in jail in these past few days, following the end of his overseas tour.
Sean Kingston is back in Jamaica to spend the holidays in his homeland with his family. One of the first thing he did when he returned home was to visit Vybz Kartel in jail.
Was Vybz Kartel himself that requested to have Sean Kingston visiting him over at GP to discuss some music business and big projects for 2018 so to start it with a bang. Considering Addi's birthday in the first week of January no wonders they want to make a big mark from the start.
Sean Kingston shared on Instagram the following photo and caption:
"2nd day back in [Jamaica]," wrote on Instagram in the caption of a photo of himself and Sikka Rymes who is a close friend of Kartel. "Just went to pay the Wurlboss [Vybz Kartel] another visit… di teacher is in goodfaith with a lot of great plans for #2018 Big up di link @sikka_rymes for the invitation."
While he didn't revealed the exact plans that Kartel has for the new year, sources told us that he is planning to drop a new album as well as a plenty of new records.



"We have a major project in the works for the new year," sources told us. "2018 will be bigger and better just stay tune its total domination from the Wor'Boss boss it ago sick."
This is the second time that Sean Kingston visits Vybz Kartel in prison. Prior to this visit the young superstar visited Adidja this past March during the same time that the two Jamaican music stars also collaborated in the fresh single "Chance", watch the music video below.
Watch Sean Kingston – Chance ft. Vybz Kartel – Official Music Video
Vybz Kartel is an a good spirit and looking up to things. Sean Kingston and Vybz Kartel collaborative tune "Chance" has been getting plenty airplay locally and overseas. Since returning to Jamaica, the "Chance" singer has bought a new heaquarter and signed Kartel's former Gaza student, Tommy Lee Sparta, to his "Time Is Money Entertainment" label and the two artists are currently working on their albums due early next year.
Vybz Kartel, real name Adidja Palmer, that has been behind bars since the end of 2011, could be free again for next summer 2018, with his appeal trial starting on July 9 2018.
Watch one of Kartel's latest music video for the single "Poco Man Skank" below.
Watch Vybz Kartel – Poco Man Skank Official Music Video – Good Good Productions
real deal