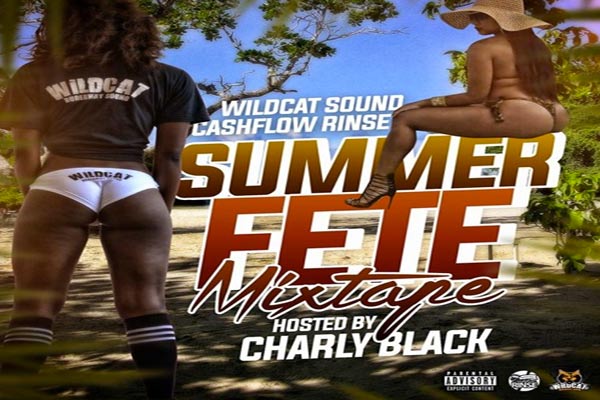 Dancehall Lovers check out a high energy dancehall mix from italian based Wild Cat Sound System and Jamaican Cash Flow Rinse titled Summer Fete 2017.
Featuring the hottest dancehall songs of this Summer 2017 and the biggest dub plates Wild Cat Sound & Cash Flow play the biggest & freshest dancehall anthems from Jamaican stars like
Vybz Kartel, Mavado, Alkaline, Sparta, Popcaan, Charly Blak, Shenseea, Vershon,Chris Martin, Shaggy, Chronixx, Masicka
and the list goes on and on, check the track listing for the full list of songs featured and don't miss a song title.
A well balanced mix guaranteed to make you move from beginning to end, this dancehall mixtape is available for free streaming only, with option of purchasing it for the full download.
Stream Wildcat Sound & Cash Flow Rinse – Summer Fete Dancehall Mixtape

Wildcat Sound & Cash Flow Rinse – Summer Fete Mix 2017  Track Listing
1)Charly Black – Summer Fete Intro
2)Vybz Kartel & Ishawna – Washer Dryer
3)47th Floor Interlude
4)Charly Black – Momentum
5)Shawn Storm – Party Night
6)Mavado – Way We Roll
7)Vybz Kartel – Fall In Love
8)Stig x Worl Foe – Up This Time
9)Shenseea – Reverse (Wildcat Dubplate)
10)Alkaline – Pretty Girl Team
11)Mavado – Forever
12)Max Revenue – Glue
13)Shaggy x Alkaline – That Love (Remix)
14)Charly Black – My Girl Now
15)Chris Martin & Lia Caribe – Show Them You No Lazy
16)Vybz Kartel – So What
17)Mavado – Careless Girl
18)Shenseea & Boom Boom – Wine
19)Mavado – Fresh Cash
20)Masicka – 10 outta 10
21)Vybz Kartel – Poco Man Skunk
22)Charly Black – Nah Let You Go
23)Masicka – Hold Mi Tight
24)Shenseea – Dynamite (Wildcat Dubplate)
25)Konshens – Dat Yuh Luv
26)Insideeus – Despicable Whine (Wildcat Dubplate)
27)Kranium ft Dolla T Sign – Can't Believe
28)Rre x ColtonT – Husband Machine (Wildcat Exclusive)
29)Nailah Blackman – Baila Mami
30)Vybz Kartel – Secret
31)Konshens – Turn Me On
32)Vybz Kartel x Wiz Kid – Wine To The Top
33)Charly Black – You're Perfect
34)Masicka – Brace On You
35)World Fete Interlude
36)Popcaan – Yuh Bad
37)Alkaline – Red Eyes
38)Alkaline – Impact
39)Vybz Kartel – Highest Level
40)Alkaline – Nice & Easy
41)Vybz Kartel – Love It
42)Alkaline – Golden Hold
43)Vybz Kartel x Masicka – Infrared
44)Masicka – Wha Dat
45)Masicka – Give It My All
46)Popcaan – Still Feel Good
47)Popcaan – Upforever
48)Aidonia – Yeah Yeah
49)Govana – Gyal Clown
50)Chi Ching Ching – Rock The World
51)Ding Dong – Fling
52)Ding Dong – My Grung Dis
53)Popcaan – 1 Guh
54)Vybz Kartel – Eagle
55)Aidonia – Krayzay
56)Masicka x Kranium – Fire In The Rain
57)Popcaan – Stronger Now
58)Shane O – Last Days
59)Top Story Instrumental
60)Popcaan – In Love
61)Lanz – She Nah Leggo
62)Alkaline – Money Man
63)Mavado – Memory
64)Mavado – Touch And Leggo
65)Charly Black – Compliments
66)Alkaline & Sean Paul – Gyallis Pro
67)Tommy Lee Sparta – How Me Do It
68)Maestro Don – If I Was In The 90's (Rinse Prod)
69)Prohgress – Memory Lane (Rinse Dubplate)
70)Alkaline – Fast
71)Chronixx – Likes
72)Vershon – Success (Rinse Dubplate)
73)Vershon – Again
real deal