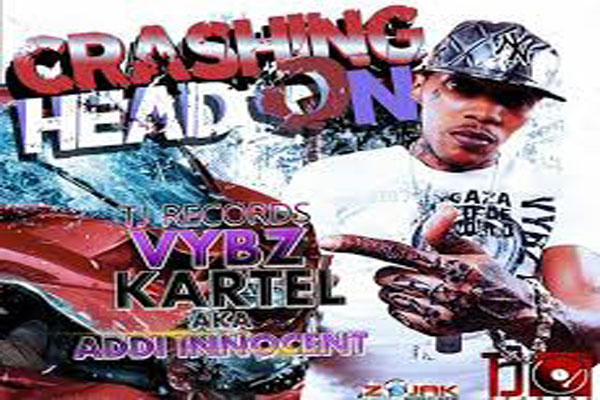 Listen to a new hit song from incarcerated Jamaican dancehall artist Vybz Kartel.
Vybz Kartel is one of the most prolific song writer and deejay of his time. He penned thousands of songs, and he has been a ghost writer even for Bounty Killer and Mavado, his historical rivals.
Produced by one of Kartel's most loyal and favorite producer TJ Records the new Kartel's single is titled "Crashing Head On".
span style="color: #000000;">As you can guess from the title is a song about crashing heads, he describes the end of a relationship for too much fighting and as usual Kartel's nails it, delivering an exquisite and catchy new dancehall hit for the month of April.
Listen to Vybz Kartel aka Addi Innocent – Crashing Head On and sing along to the new tune with the lyrics posted after the song audio.
Kartel's new song - Crashing Head On is available for digital purchase on iTunes, clicking on the banner below.

LISTEN TO VYBZ KARTL AKA ADDI INNOCENT – CRASHING HEAD ON – TJ RECORDS APRIL 2014
VYBZ KARTEL  - CRASHING HEAD ON -LYRICS
I gave you everything  thank you girl
Don't know you no more your a stranger
I never know you so ungrateful
Never know you so ungrateful
People get in your brain
Wish you all the best take care of your self
Who got to you, you really change
Don't you see that your someone else
(Chorus)
It's like crashing head on
I don't really know if you love me
Right there you straight off… you lie to me
Please girl just f–k off
It's like crashing head on
I don't really know if you love me
Right there you straight off… you lie to me
Please girl just f–k off
(Verse 2)
Anything weh happen you did it to yo self
You did it to yo self, you did it to yo self
Anything weh happen you did it to yo self
You did it to yo self, you did it to yo self
Anything weh happen you did it to yo self
You did it to yo self, you did it to yo self
Anything weh happen you did it, you did it, you did it to your self
(Repeat Chorus)
(Repeat Verse 1)
real deal