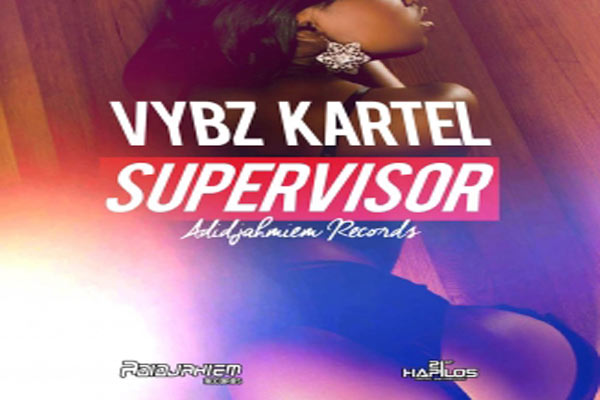 A new hot rated dancehall song from Vybz Kartel Aka Addi Innocent' just dropped for the month of September 2014.
Produced by Addi's own label,Adidjahiem Records, listen below to Vybz Kartel (Addi Innocent) – The Supervisor – Raw – September 2014 with download link, and check the Supervisor lyrics as well, posted below.
Fans of incarcerated Jamaican superstar Vybz Kartel can get his latest slamming dancehall single – The Supervisor – on I-Tunes, clicking on the banner.
Vybz Kartel aka Addi Innocent – The Supervisor – Adidjahiem Records – Sept 2014
STREAM/DOWNLOAD VYBZ KARTEL AKA ADDI INNOCENT – THE SUPERVISOR – ADIDJAHIEM RECORDS – SEPT 2014
VYBZ KARTEL AKA ADDI INNOCENT – THE SUPERVISOR – ADIDJAHIEM RECORDS LYRICS
Vybz Kartel SuperVisor - Lyrics
(Intro)
Baby mi concern about yo pum, pum
No waan yo geet weh
No waan yo geet weh

Jah know mi concern about yo pum, pum
No waan yo geet weh
No waan yo geet weh
Jah know mi concern

(Chorus)
Call yo phone bout four time
Don't get yuh mi no know why
If mi dream seh yo geet weh
Gyal yo meck a big man cry

Tell yo seh yo pu–y tight
Tell yo seh yo pu–y tight
Tell yo seh yo pu–y tight
Gyal yo meck a big man

(Verse 1)
A how yo dweet honey yo tie mi neat
The place a burn, f–k a ignite the sheet
Sit down, sit down, tell mi yo like defeat
The cum deh near, no bother grind yo teeth
Tear it up like my receipt
F–k her from Gaza go a Briden Street
Mi breed yo now, in a July yo seet
Yo water burst, get a child fi me
Vybz Kartel Supervisor - Lyrics
Repeat Chorus)
(Verse 2)
Mi need yo babe
Da wine deh yow
Just turn around look at yo bumper now
Perform no girl, yo please the crowd
Cures mi balls, squeeze mi yow
I wish you were mine forever yow
Yo waist fi wine when mi a play yo sound
Yeah baby boast two a wi shake the house
Yeah baby boast two a wi shake the house
(Repeat Chorus)

real deal