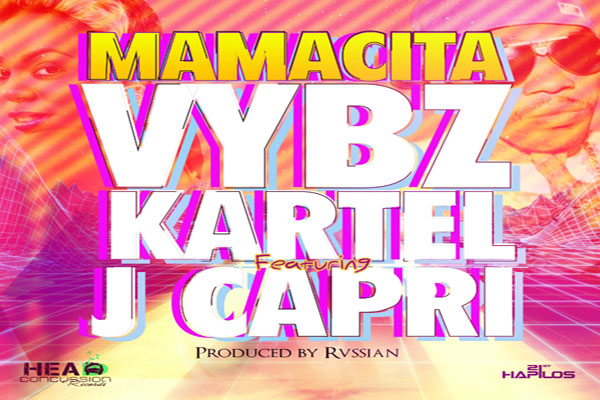 The musical pairing of international superstar Vybz Kartel and the much sought after dancehall sensation J Capri is a match made in music heaven.
Yet another hit produced by Russian on his popular Head Concussion Records Rvssian Riddim, "Mamacita" is distributed by 21st Hapilos Digital on itunes, you can get it clicking on the banner on this page.
Mamacita is a beautiful new dancehall song that broadcasts the sounds of an amazing young producer, a very talented dancehall diva, J Capri, which is signed to Jamaican music label Head Concussion Records and you sings the hook and incarcerated dancehall ace World Boss Vybz Kartel.
Mamacita is a modern Jamaican master piece where the cool dancehall beat blends perfectly with the latino spanish atmosphere and Kartel goes from patois to spanish in a hypnotic dance song that World Boss fans will be singing along in no time, because Mamacita is catchy, Mamacita is a hit song!
Mamacita is another big tune from incarcerated Jamaican dancehall King Vybz Kartel and one of his biggest songs of 2014. Listen to the full song below and check the lyrics after the audio.
LISTEN TO VYBZ KARTEL FEAT J CAPRI -MAMACITA – HEAD CONCUSSION RECORDS – MARCH 2014



VYBZ KARTEL MAMACITA LYRICS
[Chorus: Vybz Kartel (J Capri)]
Mamacita, tu seras mia
Mamacita, tu seras mia
Te amo con toda mi vida
Te amo con toda mi vida
Mami seras mia
Amor para toda la vida
Mami seras mia
Amor para toda la vida
[Verse 1: Vybz Kartel]
Lazy gal inna the bed, get up, get up
A dah sumn deh, mi wah fi tump it up
Anyweh yuh seh fi do it, we buss the fuck
And dah skirt deh yuh have, it must lift up
Split yuh split, get up, get up
Take time wid the pussy, nuh dust it up
And yuh bumpa so big, it bruk the truck
All mi weed, it drop. It just build up
[Hook:]
Tic yuh tic, toc yuh toc
Touch yuh toe, fat yuh fat
Tip di ting, lock di shop
Mi alone fi a plug and battery pack
[Verse 2: Vybz Kartel]
Gal, a how yuh so hot? She hot, she hot
Mi forget mi a cook & drop the pot
Yuh a bubble pon spot, yuh lock di app
And yuh nuh shape like rock & factory block
Tic yuh tic, toc yuh toc
Make di river come dung, sun hot, sun hot
Weh yuh get dem style, a acrobat
Mi haffi mix Magnum & John Crow back
[Repeat Hook]
[Repeat Chorus]
real deal