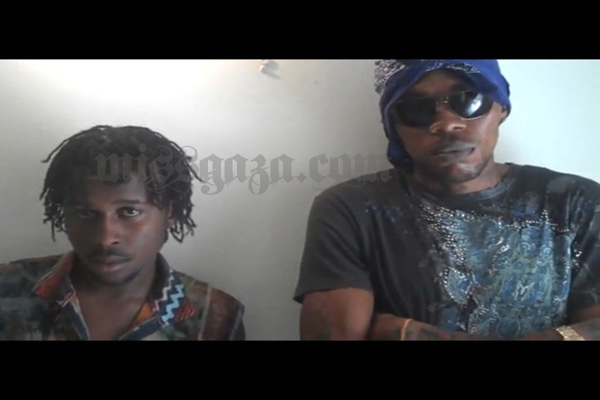 Check out the latest news and whispers about Jamaican dancehall artists Vybz Kartel and Popcaan.
World Boss Vybz Kartel is currently incarcerated, he mentored Popcaan and launched his career to stardom, teaching him how to deejay and write songs, signing him to his Portmore Empire  and featuring him on some of his slamming anthems like Clarks and Empire.
Since Kartel's incarceration Popcaan, real name Andre Sutherland, jumped to a new management without even contacting Kartel about it and did not visit or wrote to his mentor yet, so even if his music is dope a lot of Kartel's fans think that he has been pretty ungrateful.
There are strong rumors circulating on Vybz Kartel being not pleased by the lack of contact  with some Gaza members, particularly with Popcaan, following months of non-communication between them.
Popcaan keeps bigging up Gaza and the World Boss but he didn't yet go to visit his General once. Popcaan didn't yet explain why he didn't visit  but has continued to pledge his loyalty to Vybz Kartel and the Portmore Empire. 
Kartel is not happy with the fact that some of his associate didn't yet touch base with him. While it's official that Popcaan just landed a collaboration with rapper Snoop Dogg, who's in Jamaica right now recording material for his new album as well as filming a documentary, the Gaza Prefect Popcaan and all dem need to touch base with their Boss. Also remember somebody could be accused of things but until there 's no conviction he's not guilty. Zeen. Free Di World Boss! Check the following youtbe videos for some of the latest songs from Jamaica
VYBZ KARTEL COURT CASE – FREE WORLD BOSS
Brand new 

Tommy Lee – We Want Paper on Aurora Skies Riddim



Snoop Dogg  Popcann collabo announced



real deal