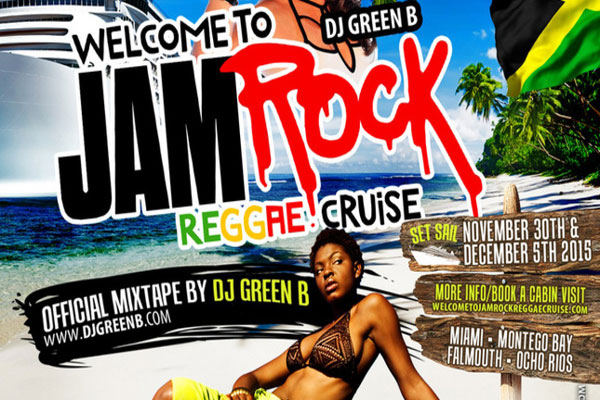 Check out below a reggae music playlist in sound cloud that features hours on hours of free reggae music to listen to.
The playlist was put together for my listening pleasure and it includes some of best Chronixx mixtapes so far old and new, Augustus Pablo music, Buju Banton music, Beres Hammond, Reggae Gold 2014, Herbalist songs, Jamrock Cruise Mixtape and more for you listening pleasure.
Since I started the my blazing reggae mixtapes collection a lot of people is been liking and re-posting in their soundcloud so why not sharing here too, starting with Welcome To Jamrock Cruise Mixtape for 2015 that blasts some of the best reggae dancehall songs old and new and celebrates the second edition of the reggae cruise created by Damian Marley departing from Miami to Jamrock in Nov and Dec 2015.
BLAZING REGGAE DANCEHALL MIXTAPES – FREE LISTENING
WELCOME TO JAMROCK REGGAE CRUISE MIXTAPE
WELCOME TO JAMROCK REGGAE CRUISE MIXTAPE TRACK LIST:
1.Tight Ship – Stephen Marley Ft. Damian Marley
2. I & I (Dub) -Protoje
3. Land of Promise – Damian Marley, Nas, & Dennis Brown
4. Jamaica – Jah Cure
5. Who Knows – Protoje Ft Chronixx
6. Welcome To Jamrock (Live) – Damian Marley
7. Light It Up – Morgan Heritage Ft Joe Mersa
8. Make It Bun Them – Skrillex & Damian Marley
9. Life We Live – Jah Cure (Willy Chin + Loud CIty Remix)
10. Stronger – Cham Ft Bounty Killer & Mykal Rose
11. Fighter – Cham Ft Damian Marley
12. Move – Damian Marley
13. Shoot Out – Mykal Rose Ft Damian Marley
14. The Mission – Damian Marley Ft Stephen Marley
15. Violence In The Streets – Julian Marley Ft Damian Marley
16. Mt Zion Medley – Capleton, Jah Cure, & Morgan Heritage
17. Murderer – Barrington Levy
18. Stalk Of Sensimillia – Mykal Rose
19. Boom Draw – Julian Marley
20. Many More Roads – Ky-Mani Marley
21. Holiday – Damian Marley
22. Rhythm Of LIfe – Third World
23. Music From My Heart – Protoje
24. 96 Degrees – Third World Ft Stephen & Damian Marley
25. YimMasGan – Third World
26. Jah Love – Mykal Rose
27. Its A Pity – Tanya Stephens
28. That Girl – Jah Cure
29. That Girl – Maxi Priest Ft Shaggy
30. Liquor Store Blues Brunos Mars Ft Damian Marley
31. Stylin – Protoje
32. Can't Breathe – Tanya Stephens
33. Better Than Love – Christopher Ellis
34. Easy To Love – Maxi Priest
35. She's Royal – Tarrus Riley
36. Perfect Love Song – Morgan Heritage
37. Dancehall Vibes – Jah Cure
38. Reggae Music Again – Busy Signal
39. Down By The River – Morgan Heritage
40. Behold – Morgan Heritage Ft Capleton
41. Heart Of A Lion – Ky-Mani Marley
42. Khaki Suit – Damian Marley, Bounty Killer, & Eek A Mouse
43. Ghetto Boy – Stephen Marley, Bounty Killer, & Mad Cobra
44. Broader Than Broadway – Barrington Levy
45. Black Roses – Barrington Levy
46. Call On Me – Jah Cure


47. Fall In Love – Popcaan
48. Affairs of The Heart – Damian Marley
49. End of Time – Christopher Ellis, Stephen Marley, & Jah Cure
50. Wild World – Maxi Priest
51. Footprints – T. O. K
52. Tarrus Riley – Far Away
53. Missing You – Busy Signal
54. What Will It Take – Jah Cure
55. Gangster Love – Bounty Killer
56. Marijuana – TOK
57. Higher Heights – Ky-Mani Marley
58. Gimme Likke One Drop – Tarrus Riley
59. She's Too Experienced (Dub) – Barrington Levy
60. Real Jamaican – Mykal Rose & Busy Signal
61. Living Dangerously – Bounty Killer Feat Barrington Levy 
62. Vitamin S – Cham
63. Gal Yuh A Lead – TOK
64. Money To Burn – TOK
65. Higher Level – Elephant Man
66. This Is How We Do It – Bounty Killer & Elephant Man
67. Drop It (Like You Doin It) – Cham
68. Bedroom Bully – Busy Signal
69. Down In The Ghetto – Bounty Killer Ft Bunny Rugs 
70. Party Shot – Popcaan
71. Ravin – Popcaan
72. Only Man She Want – Popcaan
73. Pon Di River Pon Di Bank – Elephant Man
74. Watch Out For This (Bumaye) – Busy Signal
75. Shell It Down – TOK
76. Shuub Out – TOK
77. Represent (Dub) – Elephant Man
78. All Night – Busy Signal
79. Up In Her Belly – Busy Signal
80. Sunshine Girl – Capleton Feat Stephen Marley
81. Hey Baby – Stephen Marley
82. Hey Girl – Damian Marley
83. Rasta Love – Protoje Feat Ky-mani Marley
84. Road To Zion – Damian Marley Feat Nas
85. Harder Days – Julian Marley
86. Power of A Girl – Tanya Stephens
87. Set Up Shop – Damian Marley
88. That Day Will Come – Capleton
89. Gunman World – Damian Marley
90. Kingston Town – Busy Signal Ft Damian Marley
91. Rock Stone – Stephen Marley Ft Capleton & Sizzla
92. I Know (Dub) – Wayne Marshall
93. Too Hot (Dub) – Cham
real deal