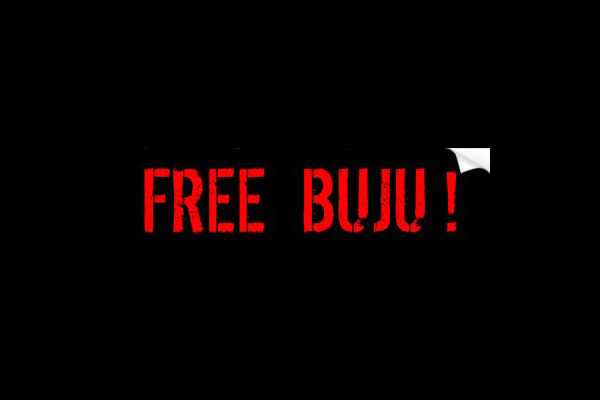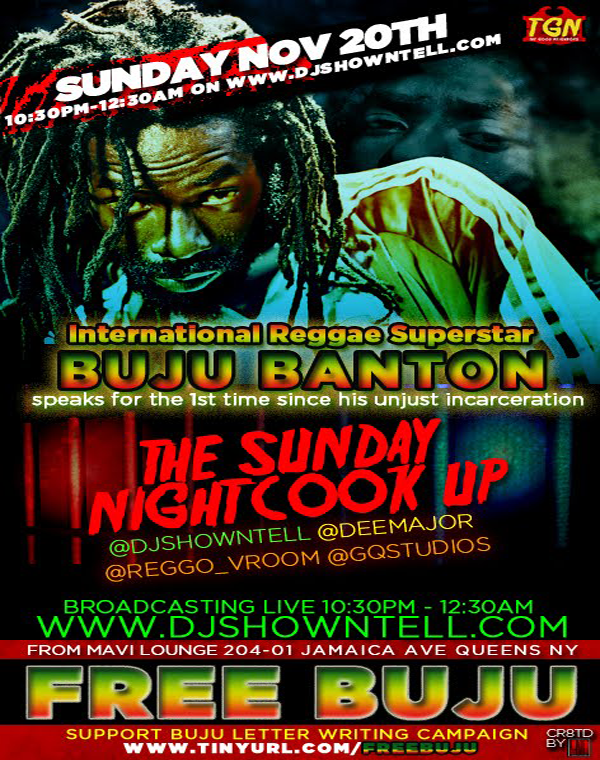 Fans of Buju Banton if you want to see him soon free PLS join the The Buju Banton Letter Writing Campaign (BBLWC) to United States attorney general Eric Holder.
The organization is seeking at least 50,000 signatures by December 9, to mark the second anniversary of his arrest in Miami Florida during a drug raid.
Buju fans can also hear him talk for the first time after his arrest Sunday Nov 20 from 10.30 pm to 12.30 pm on the Sunday Night Cook Up. See above flyer for more details.
Show Love & Support to Buju Banton, write him here : MARK ANTHONY MYRIE – REG# 86700-004 CI LIMESTONE COUNTY CORRECTIONAL INSTITUTION  910 TYUS ROAD GROESBECK, TEXAS 76642
Below please find a letter which we would encourage all Buju Banton fans to copy, paste, print out, sign and send to Attorney General Eric Holder so that the Government is aware that the public is monitoring this case closely. Buju appreciates your support! The aim is  to have 50,000 letters sent to Mr. Holder's office by the end of the month. Please send the letter and encourage others to send the letter today! Thank you for your much needed participation!
Attorney General Eric H. Holder U.S. Department of Justice 950 Pennsylvania Avenue, NW Washington, DC 20530-0001

Dear Attorney General Holder: I am writing to ask for your intervention with respect to a grave injustice against Grammy-nominated reggae music icon Buju Banton (legal name Mark Anthony Myrie). The incarceration of this legendary musician without bail is unconscionable.
He is currently incarcerated in the Pinellas County Jail in Clearwater, Florida while he awaits trial on drug conspiracy charges in the Middle District of Florida for which he has pleaded not guilty. The charges are a result of information provided by a professional informant who relentlessly pursued Mr. Myrie for six months to participate in a drug deal.
In our great system of justice the accused is innocent until proven guilty. Therefore, persons accused of crime are entitled to bail. Mr. Myrie meets all of the requirements for bail, yet it has not been granted. In addition, his trial has been postponed three times despite his attorney's objections.
The professional informant in Mr. Myrie's case is a convicted drug trafficker from Colombia. This convicted felon has been granted legal immigration status and to date has earned over three million American dollars (tax free) for serving as an informant to various U.S. government agencies.
Taxpayer dollars certainly could be spent more effectively than on trying to entrap individuals who have no previous criminal record and have never been involved with drugs in any manner. Is the Federal government presently in the business of creating criminals?
Mr. Myrie, a.k.a. Buju Banton, produces uplifting, positive music comparable to the music of Bob Marley. His work inspires people worldwide. He has been nominated for a Grammy Award, the highest achievement in his field, four times since 1999. He is one of the leading voices of his generation, shedding light on such issues as the unrelenting violence and abject poverty pervasive in the Third World. He has also represented his country in performances at the Summer Olympics in Greece in 2004 and at the Cricket World Cup Opening in 2007.
Buju commemorated Jamaica's support for President Obama collaborating with Dave Stewart on "American Prayer," a tribute to the President. Additionally, Buju is a family man, an employer and a generous philanthropist.
Given Buju Banton's exemplary reputation, his humanitarian efforts and his cultural contributions to society, he should not be languishing in jail at U.S. taxpayers' expense. I urge you to do whatever possible to end this injustice. Sincerely, *****
Buju Banton's son Mark Myrie takes on him his father legacy. He has started producing under his own record label, Markus Records. He's 17 years old and also  goes  also by the name Markus. He has been producing for four years but went professional with the craft a year ago. He recorded a song with Buju while he was on bail called Lose Your Love. Since then, he also produced the 'Beating Stick' Riddim  with Gaza Beating Stick by Ryno (Blak Ryno). He has also  already produced songs for Dj Sunshine, Lutan Fyah, KipRich and Calibre, as well as his artistes Humble Lion and Minando.
Big Ups To The Banton!
PLAY BUJU BANTON OPTIMISTIC SOUL-OFFICIAL MUSIC VIDEO

real deal