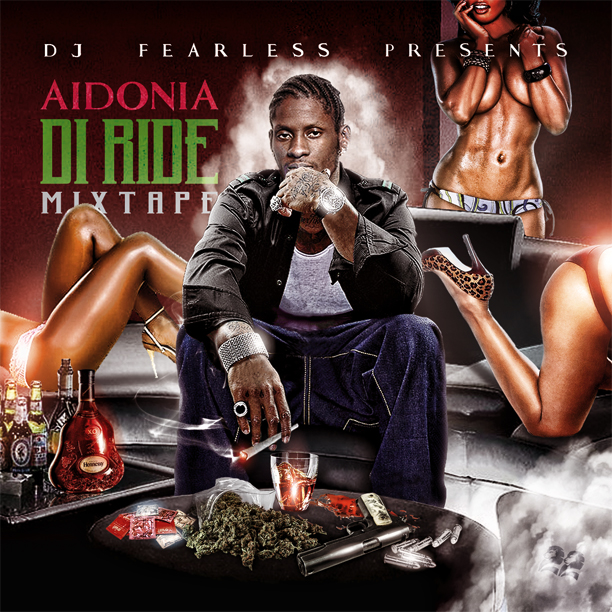 UK based badness King DJ Fearless released another of his explosive dancehall mixtapes.
Titled – Aidonia Di Ride Mixtape – stream or download the latest, biggest and most popular dancehall reggae tracks from Jamaican recording Dancehall JOP artist Aidonia.
Fans of Jamaican dancehall artists Aidonia check the full Track listing for the mix dedicated to him featuring all the songs titles, and grab Dj Fearless free mixtape via mobile download link & regular computer download links all posted below. 
STREAM DJ FEARLESS – AIDONIA – DI RIDE DANCEHALL MIXTAPE
DWNLD DJ FEARLESS AIDONIA DI RIDE MIXTAPE MOBILE LINK[ DWNL DJ FEARLESS AIDONIA DI RIDE MIXTAPE
DJ FEARLESS – AIDONIA – DI RIDE MIXTAPE TRACKLIST
1. Ride 2. Your Body A Di Best 3. Tip Pon Yuh Toe 4. Supm Fi You 5. Jack Hammer 6. Grab Har Nuh 7. Hundred Stab 8. Tan Tuddy 9. Climb Up 10. Bruki 11. Jook So 12. Pon Di Cocky 13. Fuck You Tonight 14. Caribbean Girls 15. Wine Yuh Body 16. Good Gyal Weh Bad 17. Bubble N Turn 18. We A Tek It Off 19. So Good 20. Like So 21. Dem Love We 22. Mi Ah Bubble Her 23. Baby 24. Morning Ride 25. Turn It Around 26. Way U A Whine 27. Bawl 28. She Mek Me Say29. Hot Fuck 30. Gal Dont Bawl 31. Come Ova 32. She Like Me 33. Whine 34. Grip Me 35. Di Ride 36. Till It Bruck 37. Flamingo 38. Fuck Song 39. Virgin Mary 40. Cocky Rebel 41. Boom Flick 42. Dweet 43. Stand Up Front 44. Go For Yu Wanna 45. Nuh Bwoy 46. Buss It Inna Face 47. Mi Clap It 48. Sen Fi Di Guns Ft. Bounty Killer 49. Mac 90 Ft. Bounty Killer 50. Bush Cash 51. Pappa Smurf 52. Addy a Mi Daddy 53. Hot Grabba 54. Joker Smoker 55. LaLa Land 56. Day & Night
real deal