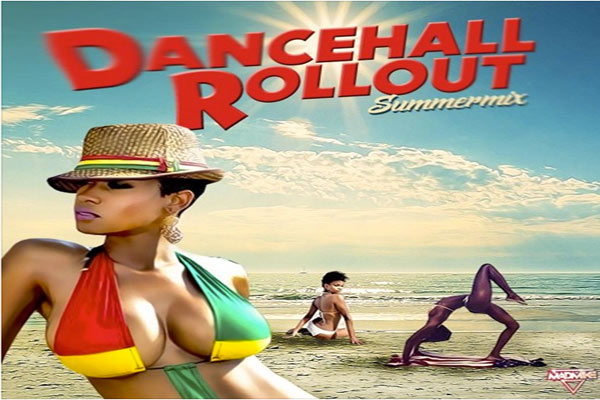 Stream or download a new heavy loaded dancehall free mixtape brought to you by Dj Madmike and titled Dancehall Rollout Summer Mix 2017
Featuring the latest slamming Jamaican hit singles that are already the soundtrack for this Summer 2017, Dancehall Rollout mixtape sports all the current bangers and anthems from your favorite Top Jamaican dancehall artists.
Featuring  the latest hit songs from Vybz Kartel, Aidonia, Konshens, Spice,Charly Blak, Popcaan, Sean Paul & Alkaline, Mavado, Vershon, Jahmiel and the list goes on and on this dancehall mix will keep you company for more than an hour and keep you current with the hottest dancehall hits of 2017.
Check the full track listing and stream or download Dj MadMike Dancehall Roll Out Mixtape clicking on the player's buttons below.
Stream Dj MadMike - Dancehall Rollout – Summer Mixtape 2017
DANCEHALL ROLLOUT SUMMER MIX TRACK LISTING
01.INTRO
02.ROLL OUT – QQ
03.ROLL – MRG X AIDONIA X RAZOR B
04.SHEET – SPICE
05.RIGHT BACK KONSHENS
06.CHARLY BLACK – SHOW ME
07.SHEENSEA – HAPPY JUK
08.EASY THING – I OCTANE
09.HOT FOOT – RDX
10.DUBAI – SPICE
11.GOOD TIME – KALADO
12.YENG YENG – DING DONG
13.WE GET GYAL – DING DONG AIDONIA
14.CLAP – GAGE
15.WINE TO THE TOP – VYBZ KARTEL
16.YOU'RE PERFECT – CHARLIE BLACK
17.TURN ME ON – KONSHENS
18.POCO MAN SKANK – VYBZ KARTEL
19.FRESH CASH – MOVADO
20.EYE TOP – KIPRICH
21.STOP WILD UP – I OCTANE DING DONG
22.WINE – SHENSEEA & BOOM BOOM
23.DAT U LUV – KONSHENS
24.DYNAMITE SHENSEEA
25.NAH LET YOU GO – CHARLY BLACK
26.WICKED – CHI CHING CHING
27.REAL QUEFFA – VERSHON
28.FRASS BOX – POPCAAN
29.SO WHAT – VYBZ KARTEL
30.CARELESS GAL – MOVADO
31.MY GIRL NOW – CHARLIE BLACK
32.ALL DAY IN – KONSHENS
33.GYALLIS PRO – SEAN PAUL ALKALINE
34.TOUCH AND LEGGO – MOVADO
35.COMPLIMENTS – CHARLY BLACK
36.NOTHING DEM NUH HAVE OVA ME- SHENSEEA
37.RIDE IT – DEXTA DAPS
38.IG GIRLS – AIDONIA
39.BEST NANA – KING KOSA KONSHENS SHENSEEA
40.CHANCE – SEAN KINGSTON FT. VYBZ KARTEL
41.LOVE IT – VYBZ KARTEL
42.NICE & EASY – ALKALINE
43.HEART BEAT – VYBZ KARTEL
44.ADDICTIVE – POPCAAN
45.ME DON'T LOVE YOU GAL – ALKALINE
46.LOOK OVER MY SHOULDER – JAHMIEL
47.PARTY NICE – MASICKA
48.FOREVER – MOVADO
49.PRETTY GYAL TEAM – ALKALINE
50.SON OF QUEEN – ALKALINE
51.YUH LIE – SHENSEEA
52.BELT BUCKLE – MOVADO
53.UNRULY KING – POPCAAN
54.TOO DUMB – JAHMIEL
55.TOO YOUNG – VERSHON
56.DIRT NAP – MOVADO
57.HIGHEST LEVEL – VYBZ KARTEL
58.INFRARED – VYBZ KARTEL MASICKA
59.PORTMORE CITY TO UPTOWN
60.BLACK PEPPA CHI CHING CHING
61.TRANSACTION – I OCTANE
62.GWAAN OUT DEH – POPCAAN
63.THREE STUMP – VERSHON
64.SPEAKING OUT – CHARLY BLACK
65.JUNGLE JUSTICE – POPCAAN
66.IMPACT – ALKALINE
67.FAST – ALKALINE
68WATCH OVER MY LIFE – POPCAAN
69.DUTTY MONEY – TOMMY LEE SPARTA
70.SLOW MOTION – CHARLY BLACK
71.BORN AGAIN VIRGIN – VYBZ KARTEL
72.MI C MI BED AND MISS U – DEXTA DAPS
73.FUCK YOU MEAN – DEXTA DAPS
real deal