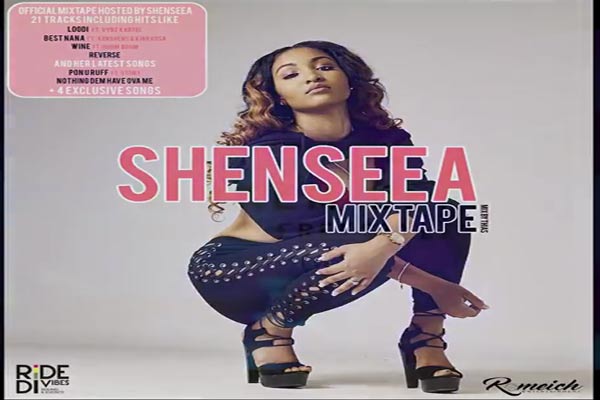 Fans of Jamaican dancehall music get to know better artist Shenseea with her official mixtape that just dropped.
Miixed by Thias from Ride Di Vibes, this super fresh dancehall reggae mixtape features the latest hottest dancehall songs from this young, beautiful and talented female Jamaican dancehall artist, that become a super star after her collaborative hit single Lood with incarcerated World Boss Vybz Kartel.
Shenseea didn't skylark and kept building her career hard, putting out hits on hits, thanks to her voice, her delivery, her fierceness and the baddest music producers, she managed to stay on top despite the Kartel's Loodi controversy, read more here, and became a fresh and young force to reckon with in Jamaican dancehall music, the whole Carribean and has now fans from all over the world.
The young dancehall recording artist is now cementing her name with a well rounded Official mixtape that features her latest songs, freestyles and dub plates.
Ride Di Vibes Shenseea Official Mixtape
Check the track listing for Shenseea Official mixtape below.
[One Track] Ride Di Vibes Shenseea Official Mixtape
Shenseea, the next generation Jamaican dancehall diva, already worked with top producers in the industry such as Romeich, Don Corleon, SoUnique Records, Dj Frass, Dunwell Productions and many more, check some of the credits in the mixtape track listing,.
Listen To Shenseea Official Mixtape – July 2017
Shenseea | Official Mixtape | August 2017 SoundTrack List:
01. Shenseea – OOUUUH FREESTYLE – produced by Romeich Entertainment
02. Shenseea – 2:00 BEST NANA ft. KONSHENS & KING KOSA – produced by Head Concussion Records
03. Shenseea – 4:18 WICKEDEST TIME – produced by Don Corleon
04. Shenseea – 6:22 JIGGLE JIGGLE – produced by Romeich Entertainment
05. Shenseea – 8:20 LOODI (DUBPLATE) – produced by ADA UK
06. Shenseea – 9:42 TELL ME FT. JAHMIEL – produced by Troyton Music
07. Shenseea – 11:48 TIME UP – produced by Ainsworth and Lyndon Hull
08. Shenseea – 13:02 NOTHING DEM NUH HAVE OVA ME – produced by DJ Frass
09. Shenseea – 14:47 REVERSE (DUBPLATE) – produced by Romeich Entertainment
10. Shenseea – 16:59 WINE FT. BOOM BOOM – produced by Good Good Productions
11. Shenseea – 18:49 RUDE GYAL – produced by Full Chaarge Records (ZJ Dymond)
12. Shenseea – 20:01 DYNAMITE – produced by Dunwell Productions
13. Shenseea – 21:51 ROCK THE FLOOR FT. DING DONG – produced by Down Sounds Records
14. Shenseea – 23:54 BAGGA THINGS – produced by Khalfani Records & Romeich Entertainment
15. Shenseea – 26:48 FREESTYLE INTERLUDE (DUBPLATE) – original idea from Ride Di Vibes
16. Shenseea – 27:58 YOU LIE – produced by Chimney Records
17. Shenseea – 29:58 NEXT TO YOU – produced by SHS Records
18. Shenseea – 31:49 HAPPY JUK – produced by Romeich Entertainment
19. Shenseea – 33:29 ANONYMOUS – produced by Romeich Entertainment
20. Shenseea – 35:38 PON U RUFF FT. STONY – produced by Stony Music
21. Shenseea – 35:54 NAH LOOSE (DUBPLATE) – original idea from Ride Di Vibes
Facebook : Shenseea / RidediVibes
InstaGram : Shenseea / Ridedivibes


Snapchat : Shenseea / Ridedivibes
real deal