Jamaican Reggae Artist Chronixx & Maxx Glazer Federation Sound dropped the awaited free Reggae Mixtape Roots & Chalice!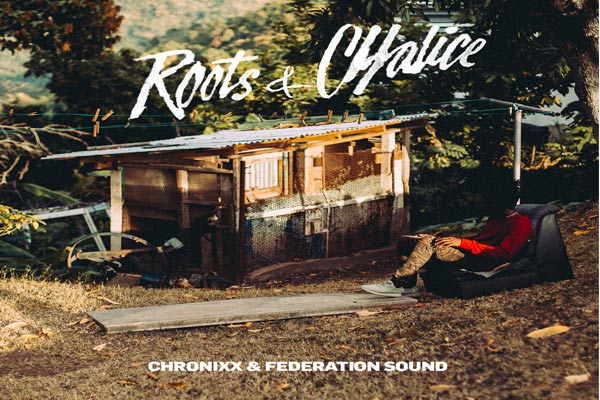 Chronixx new reggae mixtape, packed with some blazing new and classic Chronixx reggae songs, from one of the most loved new generation of reggae artists from Jamaica, features old and new reggae songs from Chronixx and anticipates a new reggae music album -VISIT JAMAICAN REGGAE ARTIST CHRONIXX OFFICIAL WEBSITE TO FIND OUT MORE - from the young but seasoned reggae artist, with  a big follow all over the world.
Enjoy below the mixtape Roots & Chalice available for free stream posted below or free download of the individual Chronixx tracks in mp3 format pressing the button below.
Listen to Chronixx & Federation Sound – `Roots & Chalice Reggae Mixtape 2016
Chronixx Roots & Chalice Reggae Mix Federation Sound
ROOTS & CHALICE -CHRONIXX -2016 MIXTAPE TRACK LISTING
1.Chronixx – Intro
2.Chronixx -  Roots & Chalice
3.Chronixx - Like a Whistle
4.Chronixx – Interlude – Roots & Chalice
5.Chronixx - Alpha & Omega
6.Chronixx - Puppy Nose feat. Dre Island
7.Chronixx - Tenement Yard (News Carryin' Dread)
8.Chronixx - Interlude – Spanish Town
9.Chronixx - Spanish Town Rocking
10.Chronixx -  Out Deh
11.Chronixx - Majesty
12.Chronixx - Iyah Walk
13.Chronixx - nterlude – The Plant
14.Chronixx -  Perfect Tree / Cannabis feat. Eesah
15.Chronixx -  Interlude – Food Is Medicine
16.Chronixx - Spirulina
17.Chronixx - Smooth Operator
18.Chronixx - Interlude – Upfullness
19.Chronixx - 3D
20.Chronixx -  Thanks & Praise
21.Chronixx -  Best Love feat. Kelissa
22.Chronixx -  Sell My Gun
23.Chronixx - . Real Real
24.Chronixx -  Interlude – Everything Is Reggae
25.Chronixx -  Question
26.Chronixx -  Chalice & Roots feat. Kabaka Pyramid

@ChronixxMusic @FEDERATIONsound
real deal