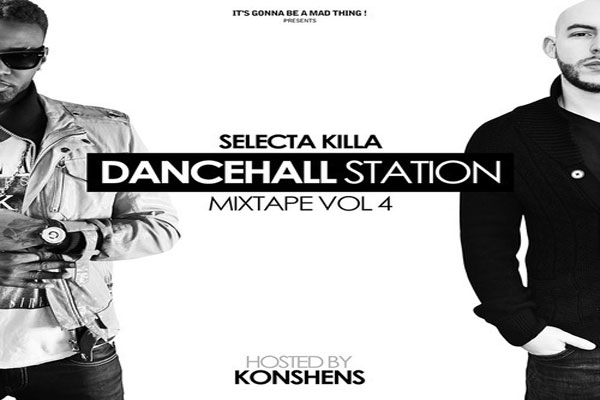 Another International free reggae dancehall mixtape to download, tr888 out of Belgium and hosted by one of the ladies favorite artists – Konshens.
Stream or download Selecta Killa "Dancehall Station Mixtape Volume 4″ that released just few days ago.
Posted below the full stream, track listing & download link to a big free reggae dancehall mixtape that includes some of the hottest & most played Dancehall hit songs & riddims between 2013 and 2014.
Dancehall Station includes a bit from a lot of artists as well as many Konshens tunes.
STREAM OR DOWNLOAD SELECTA KILLA – DANCEHALL STATION MIXTAPE 
DOWNLOAD SELECTA KILLA – DANCEHALL STATION MIXTAPE VOL 4 HOSTED BY KONSHENS
SELECTA KILLA – DANCEHALL STATION MIXTAPE VOL 4 TRACK LIST
01) SELECTA KILLA & KONSHENS - INTRO
TUN OVA RIDDIM (BIRCHILL RECORDS)
02) KONSHENS – SHOW YOURSELF
03) RDX – THE BRUK OUT SONG
04) CHARLY BLACK – GOLD MEDAL (JAH WAYNE RECORDZ)
05) BUSY SIGNAL – BEDROOM BULLY
CENTER FORWARD RIDDIM (DJ FRASS RECORDS)
06) ASSASSIN – GET MAD
07) MAD COBRA – DAH SUMN DEH
BRIXTON BOUNCE RIDDIM (JRK PRODUCTIONS)
08) MAD COBRA – DI BADDEST
09) MUNGA – DILLY DOLLY
10) ELEPHANT MAN – STAMINA
MOGGELA RIDDIM (FLIP MONEY RECORDS)
11) AGENT SASCO – NEXT TOP MODEL
12) KONSHENS – HOW WE LIVING
13) BEYONCE & MR.VEGAS – STANDING ON THE SUN (SOS REMIX)
TOASTED RIDDIM (TJ RECORDS)
14) AIDONIA – BOOM FLICK
15) KONSHENS – BIG PEOPLE TING
16) VYBZ KARTEL – SCHOOL
17) POPCAAN – WINE & STOP (JAM2 RECORDS)
MULLET BAY RIDDIM (DJ OUTKAST & FRASS TWINS)
18) RED RAT – STILL BAD
19) RED EYE CREW – COKE N CRAKERS
20) ELEPHANT MAN – TINK SHE BAD (UIM RECORDS)
LICENSE PLATE RIDDIM (JAY CRAZIE RECORDS)
21) KALADO – GOOD PUSSY
22) KALIBWOY – #TEAMSURINAME
23) DEMARCO – DROP NUH
24) WARD 21 – STOP THE J (WILETUNES)
25) KONSHENS – DO SUMN (SELECTA KILLA DUB)
26) GYPTIAN – NON STOP WHINE

PRE-ORDER RIDDIM (CLAIMS RECORDS)
27) O – WALK OUT
28) CHAM – DON FI WHO
29) J.CAPRI - REVERSE IT (HEAD CONCUSSION)
DECIBELS RIDDIM (CR203 RECORDS)
30) POPCAAN - BE LIKE ME
31) VYBZ KARTEL – GEORGINA
32) BEENIE MAN – TRUCK LOAD (DI GENIUS)
33) KONSHENS – PULL TO MI BUMPER INTERLUDE
34) KONSHENS & J.CAPRI – PULL TO MI BUMPER (HEAD CONCUSSION)
35) QQ & VENOMUS – ONE DROP (STASHMENT RECORDS)
RUSSIAN RIDDIM (HEAD CONCUSSION)
36) VYBZ KARTEL & J.CAPRI – MAMACITA
37) SEAN PAUL - FRONT & BACK
38) KONSHENS – SHAKE
39) AIDONIA & KALASH – GRIP ME REMIX (DJ GIL)
40) AIDONIA – BRUKI (DI GENIUS)
41) I OCTANE – WINE & JIGGLE (SEANIZZLE RECORDS)
NUH HARD FI DUH RIDDIM (NS MUSIC ENTERPRISES)
42) TEFLON – PEDAL
43) J.CAPRI – NUH HARD FI DUH
44) CECILE – MIDDLE (FWI MUSIC)
45) STYLO G – MOVE BACK (3BEAT PRODUCTIONS)
46) MAJOR LAZER & SEAN PAUL – COME ON TO ME
47) OCHI QUEEN – STAGGARING (SELECTA KILLA DUB)
48) VYBZ KARTEL – NO GAMES (UIM RECORDS)
49) MAVADO – TIE YUH (MARKUS RECORDS)
50) BABYBANG – YUH MI WANT (NOTNICE RECORDS)
51) MAVADO – WEED & HENNESSY (DJ FRASS RECORDS)
52) DEMARCO – RIDE (CASHFLOW RECORDS)
53) KONSHENS – OUTR

real deal