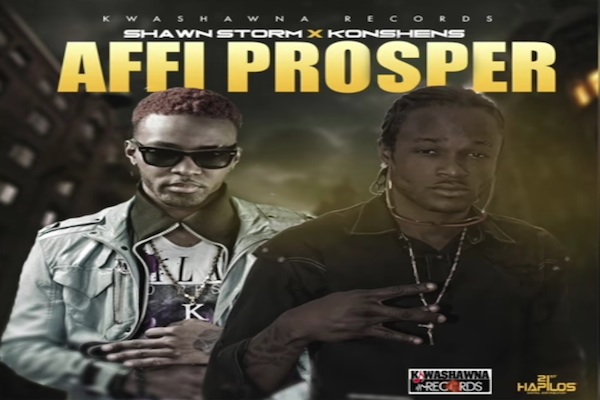 Incarcerated Jamaican dancehall star Shawn Siva Storm has a new hot single featuring Konshens making the rounds.
The newest Shawn Storm & Konshens single is a dope dancehall song with social commentary titled Affi Prosper.
Shawn Siva Storm, real name Shawn Campbell, is currently behind bars sentenced to 25 years behind bars without parole, together with his mentor World Boss Vybz Kartel for the murder of Clive Lizard Williams.
Produced by Shawn Storm own imprinting Kwashwna Records and with powerful lyrics on poverty and ghetto youths that need to get rich fast, this collaboration with Konshens makes the new single explosive both for the fresh message and the delivery. The riddim does the rest.
Shawn Storm has been the most loyal artist to his mentor Vybz Kartel refusing a plea before the sentence where he would have been discounted several years of jail in exchange of informations related the case.
Shawn Storm will appear again before the court on February 19 2017 together with Vybz kartel and the other co-accused in the appeal for Clive Lizard Williams trial.
Shawn Storm has several hot singles in his repertoire, he dropped an Ep titled The Real Siva at the beginning of this year, and lately dropped a diss track for his former Portmore member Popcaan, titled No Frauds Refix, listen to it here, that reminded all dancehall fans how much Siva's style is dope and real.
Shawns Storm and Konshens new song Affi Propser will touch the same cords. Listen to Affi Prosper below.
LISTEN TO SHAWN STORM FEATURING KONSHENS – AFFI PROSPER – KWASHWNA RECORDS SEPTEMBER 2017
real deal