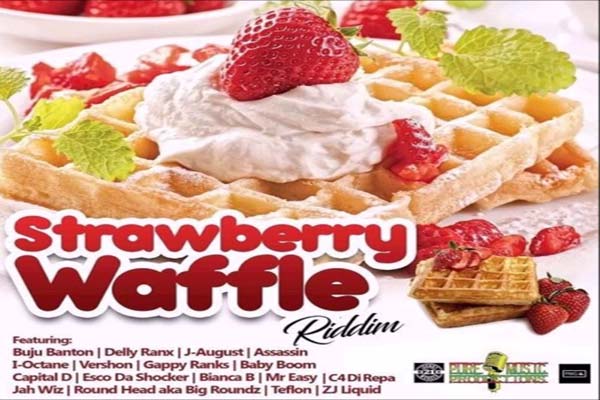 Tune in to a new fresh dancehall reggae riddim for this Summer 2017 coming out from Jamaica, titled Strawberry Waffle Riddim and brought to you by Pure Music Productions.
Featuring a great line up of Jamaican artists, including incarcerated Jamaican reggae star and Grammy winner Buju Banton, read his latest news here, Strawberry Waffle Riddim features also the latest songs from Agent Sasco [aka Assassin] voicing "Pretty Dream House", I-Octane with "Bend Yuh Back", Vershon, Delly Ranx, Mr Easy, Jah Wiz, Liquid, Gappy Ranx, Esco and many more top Jamaican artists of our time.
Strawberry Waffle Riddim comes with a yummy cover too, check the full track listing for this new dancehall reggae riddim that boast some great songs to vibe with, stream the full mix posted below.
Strawberry Waffle Riddim is available on iTunes, get it clicking on the banner on this page.
Listen To Strawberry Waffle Riddim Mix

Strawberry Waffle Riddim Track Listing

01 – J August – Wine & Go Down (Raw)
02 – J August – Wine & Go Down (Clean)
03 – I Octane – Bend Yuh Back
04 – Agent Sasco – Pretty Dream House
05 – Vershon – New Gyal Everyday
06 – Delly Ranx – Gyal Talk Up (Raw)
07 – Delly Ranx – Gyal Talk Up (Clean)
08 – Buju Banton – Know Fi Ride
09 – Mr Easy – Girls Mi Falla
10 – Jah Wiz – She Love To Party
11 – Bianca – Reflection
12 – Big Roundz – Half A Block
13 – Liquid – Full A Style
14 – Gappy Ranks – C.S.I (Raw)
15 – Gappy Ranks – C.S.I (Clean)
16 – Capital D – Quelinda Te Ves
17 – Baby Boom – She's A Freak (Raw)
18 – Baby Boom – She's A Freak (Clean)
19 – Esco – Move Harder
20 – C4 Di Repa – Bumpa So Big
real deal