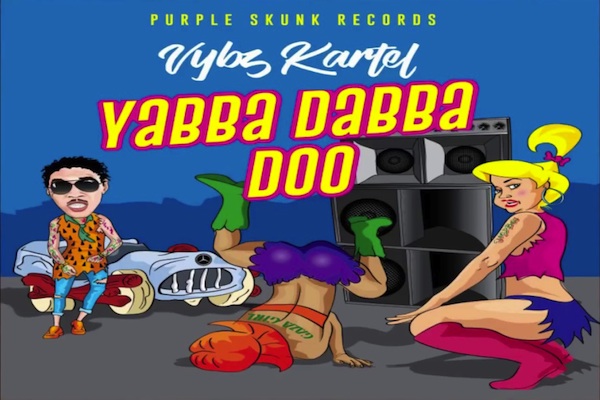 Listen to the newest dancehall music single from incarcerated Jamaican superstar World Boss Vybz Kartel, titled "Yabba Dabba Do", that dropped just in time for Christmas, debutting on iTunes.
The new music single "Yabba Dabba Do" has been making the rounds for the past month over the internet with all sort of previews  becoming one of the most searched new song in the past month.
Vybz Kartel's new explicit and exciting single "Yabba Dabba Do" is produced by Purple Skunk Records that already produced several World Boss hot singles from the past and in present time their latest is Portmore City To Uptown, that you can still listen clicking here .
The new song appeals to old and new fans of the incarcerated dancehall super star and comes with the whole Flintstones theme, since Yabba Dabba Do is typical Flinstones slanf.  The cover artwork features Vybz Kartel, the 1 Don of Dancehall music, living in a world inspired by the famous cartoon by Hanna & Barbera.
"Hold on, hey gal a so the bleach make yo face look old, and yo a just 35 years old, a weh the young gal them deh weh bleaching fit yo, make yo bumper roll," Kartel spits his trademark lyrics over an incoming infectious riddim.
Vybz Kartel is keeping his promises to delight his die hard fans with a bunch of hot new singles and music videos, the most recent to come out are "Poco Man Skank" and "Watch Over Us", click on the video title's to watch the music videos.

Kartel

has new hot songs coming out including for January the awaited "Exiled Pharoah," which is also the new moniker Kartel, real name Adidja Palmer, goes by on social media, these days.
While without a doubt Vybz Kartel is, once again, the rightful owner of the title of Deejay Of The Year 2017, 2018 will see new music and new accomplishmnts from Worl'Boss, who will be also back in court for his appeal trial in July 2018, when he will have his final chance to secure his freedom.
Support World Boss Vybz Kartel and the hard working producers behind his music getting Vybz Kartel Yabba Dabba Do on iTunes clicking on the banner below.
Listen to Vybz Kartel's new song "Yabba Dabba Doo" posted below.
Listen To Vybz Kartel "Yabba Dabba Doo" Purple Skunk Records December 2017
real deal