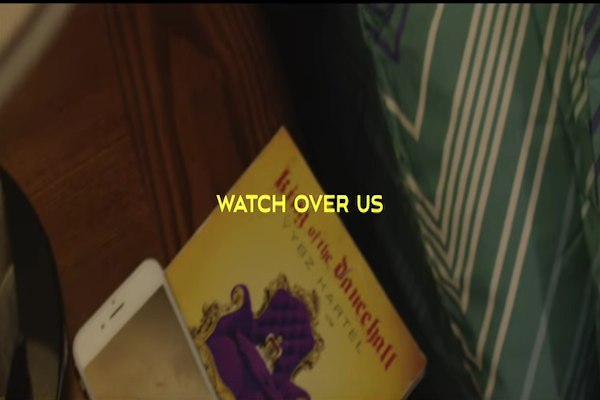 There is a new music video from incarcerated World Boss Vybz Kartel titled Watch Over Us.
Produced by one of Vybz Kartel's favorite music imprinting, famed Jamaican label TJ Records, Kartel's new official music video is quickly making the rounds over the internet and the dancehall community.
The video starts with footages in a room with a girl sleeping and she has Kartel's latest album King Of The Dancehall's album on her bed stand. Kartel starts slowly deejaying " Jah Watch Over Us tonite" and pretty much this is the spirit of the song well represented in new music video directed by Damaniac Visualz and featuring two homegirls/ sisters having fun together and getting ready to go out party in the long Kingston's night and also, most important thing, making it home safe.
Vybz Kartel Watch Over Us is paired with a nice and smooth reggae riddim the makes the song very cool, a reggae ballad to protect the ghetto youths.
Vybz Kartel has been blessings his fans with a bunch of hot new releases for the month of November 2017 including a tribute song to his mother, titled Thank You Mama and has another new song going hard right now titled How and produced by Dunwell Production, another big Jamaican music label behind many huge Kartel's hit songs.
As far as his appeal trial there are not good news in that front. Originally scheduled to start on February 18 2018 Vybz Kartel's awaited appeal trail has been pushed back to a new date and will now start on July 9 2018. Was Vybz Kartel's legal team headed by Tom Taveres Finson that filed a motion asking the appeal court judges to give them more time in order to prepare better the case, and their motion was approved postponed the beginning.
Vybz Kartel, real name Adidja Palmer, is currently serving a life in prison sentence together with Sean Campbell,Andre St Jonh and Khaira Jones for the murder of Clive Lizard Williams and during the appeal the men will have another chance to fight for their freedom and prove their innocence, with Kartel's legal team remarking the right for the World Boss to have a fair trial since the previous was shadowed by evidence tampering, witness intimidation and police corruption.
Beside being behind bar for almost 7 years Vybz Kartel's music has been dominating and still dominates Jamaican Dancehall music gaining new fans with every new song. Watch Vybz Kartel new music video Watch Over Us posted below.
WATCH VYBZ KARTEL WATCH OVER US OFFICIAL MUSIC VIDEO TJ RECORDS

real deal