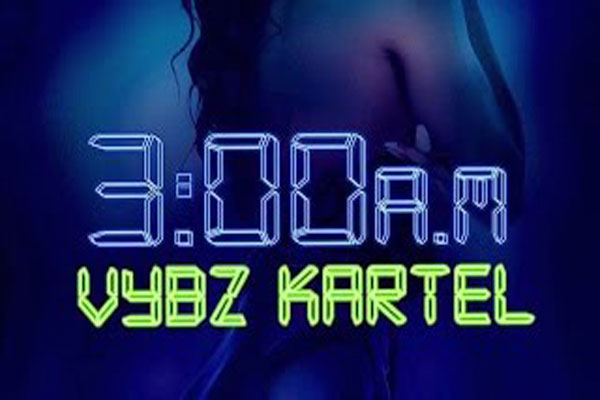 Dunwell Productions presents "3AM Riddim" featuring a new sexually charged dancehall song from billboard Jamaican star Vybz Kartel with the title track "3AM".
Also featured in the new Dunwell #3AmRiddim are Jamaican dancehall artists Dexta Daps "FU", Kalado "Wet Dream", Eleigh "Best Friend" and Propa & Kim Wierdo with "Voicenote".
Distributed by 21st Hapilos Digital, "3AM Riddim" is available pre-order on iTunes.
Listen to Kartel single 3 am and below to the full 3 AM promo mix mixed by Chromatic Sound, get Kartel's song or the full 3 AM riddim on iTunes clicking on the banner below
@iamthekartel @dunwellprods

LISTEN TO VYBZ KARTEL NEW SONG – 3AM – 3AM RIDDIM – DUNWELL PRODUCTIONS – NOV 2015
Listen To Vybz Kartel, Dexta Daps, Ishawna & More (3 AM Promo Mix)
VYBZ KARTEL NEW SONG – 3AM -LYRICS
(Verse 1)
Call you phone 3:00
Mi nuh get you mi call back
Haffi know seh the thing lock
Look how yo pum-pum fat
And a me alone fi a get that
Pull it up again from top
Whine pon the hoodie none stop
Mi a carry you go a the bus stop
(Chorus)
You know, and I know seh
A you tight punanny hold mi
A you tight punanny hold mi
You know, and I know seh
A you tight punanny hold mi
A you tight punanny hold mi
(Verse 2)
Mi love you in excess
Mi nuh get you mi get vex
Sending you a bag a text-text
End it with a bag a XX
Goodly love I feel for you
Mi tell Fedex fi express
Meck mi feel you yes-yes
Feel the beat beneath mi chest yes
(Repeat Chorus)
(Outro)
Yea mi love how our thing a run smooth
Butterfly in a yo belly a nuh junk food
Butterfly in a yo belly a nuh junk food
A.E.I.O. but mi love you
Yea mi love how our thing a run smooth
Butterfly in a yo belly a nuh junk food
Butterfly in a yo belly a nuh junk food
Mi in a you like style in a kung-fu
(Repeat Chorus 2X)
real deal