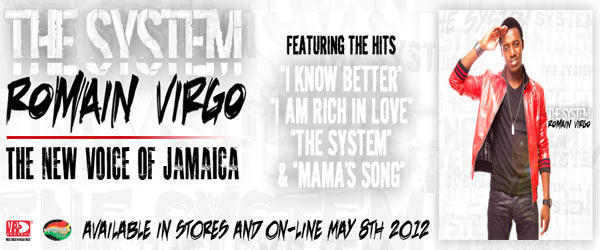 Romain Virgo unleashed his sophomore album The System today, May 8 with VP Records. The 22-year-old singer-songwriter
delivers a quality set of dynamic, conscious-themed roots and lover's rock tales.
Each song flows seamlessly to the next and shimmers with the vocal delivery of one of Jamaica's most captivating new voices. Romain teamed up with Jamaica's top producers on the new album, including Shane Brown (who produced seven of the songs) as well as Donovan Germain and Viking Productions.
Jamaican reggae artist Romain Virgo recently wrapped a mini U.S. tour and promo run last week, performing in Northeastern cities including Hartford, D.C., Philadelphia and New York City.

WATCH ROMAIN VIRGO – I KNOW BETTER – OFFICIAL MUSIC VIDEO – VP RECORDS 2012



He will return to NYC on Sat. May 12 to perform at a Mother's Day concert featuring Sanchez, Cocoa Tea and Christopher Martin held at Amazura in Queens. T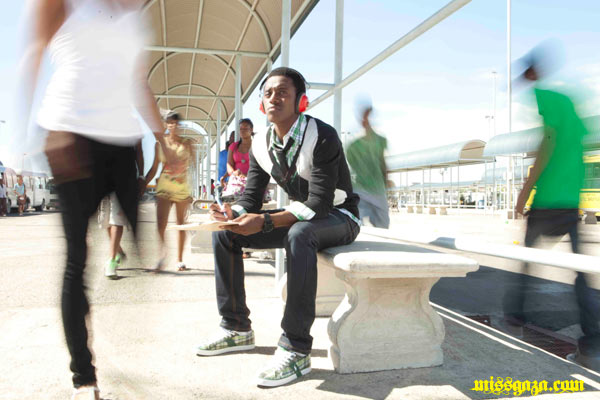 The same day, there will be a special meet & greet with all the artists at VP Records retail store (170-21 Jamaica Ave, Jamaica, NY 11432) from 2-5pm.
On Monday, May 14 Romain will perform a 3-song live acoustic set at Miss Lily's Variety Store (132 West Houston Street) in Manhattan at 7pm.
Check out exclusive video performance clips from last week's run.

Watch the incredible live show of Romanin Virgo Live at The Blockley in Philadelphia-2012:
Watch Romain Virgo Live a cappella of I Know Better at SOBs in NYC:


It has only been five years since Romain Virgo made history as the youngest winner of TVJ's popular "Rising Stars" – Jamaica's equivalent to American Idol.
In this short time frame, Romain recorded his debut self-titled album with several chart-topping reggae hits ("Can't Sleep" and "Wanna Go Home") and won numerous awards within the Caribbean community.
He also made history as the first Jamaican artist to perform at Academy of Country Music Awards in Nashville, Tennessee – where he sung his Reggae's Gone Country rendition of "All The Gold In California" alongside original vocalists The Gatlin Brothers.
Romain continues this success with his second full-length release The System. Recorded primarily at the legendary Penthouse Studio, these 15 lyrically sophisticated tracks offer compelling accounts of the challenges of living the ghetto life.
Songs like "Minimum Wage", "Another Day Another Dollar," Press On" and "Not Today" are clear examples of the struggle that many face on a daily basis. And on the gritty first single and video for "I Know Better," Romain cautions the youth to refrain from picking up the gun despite their desperate circumstances.
The album would not be complete without a set of Romain's romantic antics. His ability to swoon the ladies is evident on tracks like the 2011 reggae chart topper "I Am Rich in Love," "Broken Heart" featuring Busy Signal, the sensuous rub-a-dub tune "Fired Up Inside" and on a rendition of Adele's haunting "Don't You Remember," which is currently receiving rotation in Japan.
Romain Virgo -Tour Dates New Dates:
Sat May 12 in New York (Queens), NY @ Club Amazura at 1am
Mon. May 14 in New York (Manhattan), NY @ Miss Lily's Variety Store (3-song set) at 7pm
SHOW DETAILS:
Romain Virgo Live along with Sanchez, Cocoa Tea & Chris Martin
Special Mother's Day Concert
Sat May 12
Club Amazura (91-12 144 Pl. Jamaica (Queens), NY)
1am Tickets: $45
Purchase Tickets: VP Records Retail Store (17021 Jamaica Ave., Ph: 718 297 5802)
IN-STORE MEET & GREET:
VP Records Mother's Day Weekend In-Store Meet & Greet
Sanchez, Cocoa Tea, Romain Virgo & Chris Martin
Sat May 12, 2012 (2-5pm)
VP Retail Store (170-21 Jamaica Ave, Jamaica, NY 11432, Ph: 718 297 5802)
FREE & All Ages
ROMAIN VIRGO Album THE SYSTEM streaming & videos
real deal