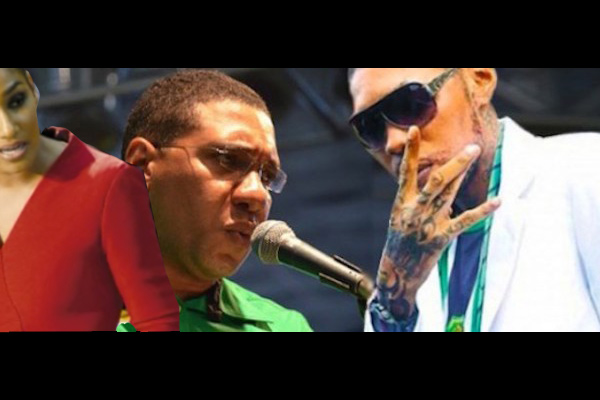 While Vybz Kartel has been behind bars for several years now, his name and music keeps being on everybody lips.
Politicians are no exception.The billboard charting dancehall star has been, recently, once again, under attack. This time from Opposition People's National Party (PNP) spokesperson on Youth and Culture, Lisa Hanna, that during a recent radio interview, last week, on Nationwide 90 FM expressed her will to ban Vybz Kartel's music from the airwaves.
The former Miss World Jamaican beauty contestant turned politician attracted a lot of back lash on social medias from both the whole Gaza Nation and dancehall lovers in general, with some even sending death threats toward her.
Jamaica's Prime Minister, Andrew Holness, does not believe dancehall should be censored, including music from incarcerated Vybz Kartel (that is probably one of his favorite artist since he quoted some Kartel's lyrics during his political election run).
The prime minister made his thoughts public after former Minister Lisa Hanna, raised concerns about Vybz Kartel recording in prison and called for a ban of the incarcerated deejay's music from the airwaves.
The sad thing is all of them don 't get the concept that are producers releasing pre recorded material, while the Gaza General in still behind bars and even if missing from the music scene physically for so long time, he he still gets attacked for all the problems in Jamaica.
They will have to free him just because using him and his story as a scapegoat for Jamaican powers to get away with things won't just work, as it has not been working.
Good thing the prime minister wants to ensure the Jamaican people that there will be absolutely no censorship of Jamaican culture including dancehall and songs released by Vybz Kartel.
Jamaica First Minister Andrew Holness Reacts To Lisa Hanna Wanting Vybz Kartel Music Banned
The Prime Minister is of the belief that it is education and not censorship that will be able to help combat possible negative messages from the music. He believes the solution it to teach the youth how to separate entertainment from reality so that they don't emulate and practice what they hear in the lyrics from dancehall artists.
Following the whole drama and speculations about Kartelpossibly recording in jail a special commission is also deciding on the matter if jailed artist should or could record new music in jail.
Kartel's had already a couple of big songs banned and censored not just in Jamaica but also in Guyana. Click here to listen and find out why and which of his explicit songs have already been banned.
Vybz Kartel Message To Lisa Hanna | Highest Level [Jamaican Cartoon]
real deal