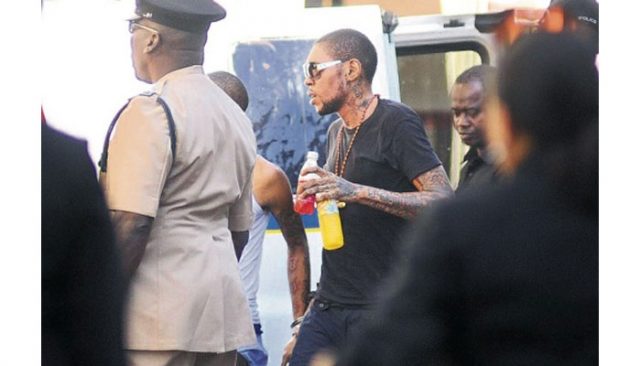 Jamaican dancehall star Vybz Kartel was rushed to the West Indies hospital in Kingston early Sunday morning.
Following excruciating pain and after he has been getting medical attention from the medical staff inside the General Penitentiary in Kingston where he is detained, but he was then transported to the UWI hospital when his condition were not improving.
Vybz Kartel, real name Adidja Azim Palmer, is serving a life sentence at the Tower Street Adult Correctional Center, also known as GP. is not the first time Vybz Kartel visits the hospital since his incarceration. His family and fans were already concerned about his health conditions during the month of June 2013 when he was rushed to the Kingston Public Hospital after complaining of severe chest pain. Read the story here.
Vybz Kartel has been now behind bars for more than 6 years and has been transferred from Horizon Centre to the Tower Street Adult Correctional Center following fake news he was recording new music in jail, fact that could never been proved. Gaza Nation fans are worried that this long time spent in Jamaican jail set is deteriorating the entertainer's health and some fans expressed they concerned when photos of Vybz Kartel Family Day emerged earlier this month, showing a skinnier and smaller Gaza General.
Vybz Kartel reported severe and serious pain that could be link also to infections or complications related to food or hygienic conditions since Jamaican prisons are the worst place you want to be, it's no surprise Kartel's fans are worried and calling for his release.
Vybz Kartel will appear before the court to appeal his life in prison sentence of 35 years behind bars without parole starting on February 2018 next year. His legal team headed by is lead attorney, Tom Tavares-Finson, says the defense is confident that the murder conviction will be overturned by the Appeal Court judges.
real deal