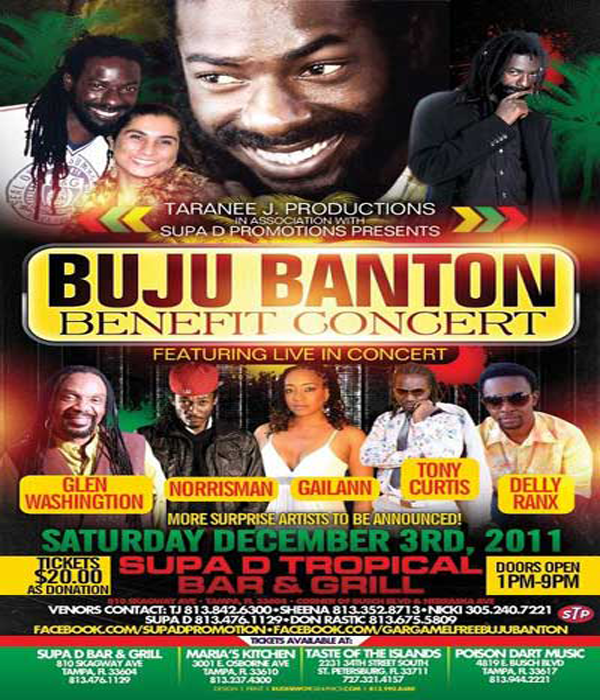 Buju's fans and supporters don't miss out next week, Saturday Dec 3, the Buju Banton benefit concert that will take place at the Supa D Tropical Bar & Grill in Tampa, Florida; starting as early as 1pm.
Jamaican reggae artist Buju Banton is currently serving a ten year sentence on drug related charges, but is not being forgotten by his friends, supporters and fans that dedicated the event to the Reggae star, trying to help providing financial support ahead of his appeal.



style="display:inline-block;width:320px;height:50px"
data-ad-client="ca-pub-5109320371512143"
data-ad-slot="8856860513">

LISTEN TO REGGE MUSIC BUJU BANTON FT JOVI ROCKWELL – LONELY NIGHTS
The lineup for the benefit concert includes Reggae artists Delly Ranx, Gramps Morgan, Nadine Sutherland, Glen Washington and Norris Man amongst  others. And a special surprise guest .
Patrons will be asked to make a US$20 donation for the cause as organizers hope to make at least US$50,000 from the concert for Buju's legal defense. Here Buju's statement on the benefit concert.
"I, Mark Myrie – aka Buju Banton, support and deem the concert being organized by Taranee Jiles to be a legitimate undertaking in order to raise funds for my legal defense and pending appeal. Your kind support will be greatly appreciated. Thanks in advance".
FREE GARGAMEL!
real deal