Raising stars Dotta Coppa and The Rizing went National and  got featured  in the Jamaican Star newspaper, one of the biggest paper inna Jamaica, check it out and catch up with some of their latest tunes!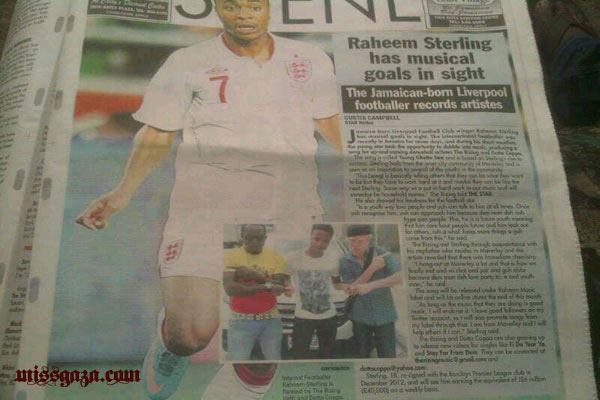 Jamaica-born Liverpool Football Club winger Raheem Sterling has musical goals in sight. The international footballer was recently in Jamaica for seven days, and during his short vacation, the young star took the opportunity to dabble into music, producing a song for up-and-coming dancehall artistes The Rizing and Dotta Coppa.
DOTTA COPPA FEAT THE RIZING OUR TIME NOW

[youtube width="640" height="344"]http://www.youtube.com/watch?v=o0CHIr23Mvs[/youtube]
DOTTA COPPA -ONE LIFE EVERYBODY HAVE -PRINCE VILLA RECORDS

[soundcloud params="auto_play=true&show_comments=true"]https://soundcloud.com/princevilla/dotta-coppa-one-life-everybody[/soundcloud]
The song is called "Young Ghetto Star" and is based on Sterling's rise to success. Sterling hails from the inner-city community of Maverley and is seen as an inspiration to several of the youths in the community.
"This (song) is basically telling others that they can be what they want to be but they have to work hard at it and maybe they can be like the next Sterling. Same way wi a put in hard work in our music and will someday be household names," The Rizing told THE STAR.
He also showed his fondness for the football star.
"Is a youth wey love people and yuh can talk to him at all times. Once yuh recognise him, yuh can approach him because dem man deh nuh hype pon people. Plus, he is a future youth meaning that him care bout people future and him look out for others, suh a whol' heap more things a guh come from this," he said.
The Rizing met Sterling through acquaintance with his stepfather who resides in Maverley and the artiste revealed that there was immediate chemistry.
"I hang out at Maverley a lot and that is how we finally met and wi chat and par and guh clubs because dem man deh love party to, a real youth man," he said.
The song will be released under Raheem Music label and will hit online stores the end of this month.
"As long as the music that they are doing is good music, I will endorse it. I have good followers on my Twitter account, so I will also promote songs from my label through that. I am from Maverley and I will help others if I can," Sterling said.
The Rizing and Dotta Coppa are also gearing up to release new videos for singles like Fi Da Year Ya, and Stay Far From Dem. They can be contacted at therizingmusic@gmail.com and dottacoppa@yahoo.com.
DOTTA COPPA -TOP CENT DOLLA – PRINCE VILLA RECORDS

[soundcloud params="auto_play=false&show_comments=true"]https://soundcloud.com/princevilla/dotta-coppa-ten-cent-dolla-1[/soundcloud]
real deal