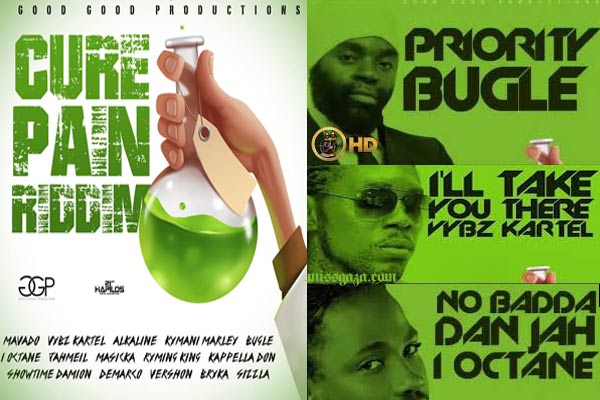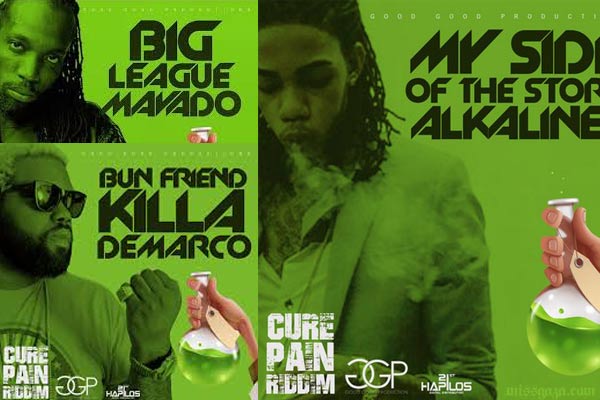 Check out one of the biggest reggae dancehall riddim of the year so far, Cure Pain Riddim, produced by Good Good Productions for Feb 2016.
A sensational riddim packed with some of the biggest reggae dancehall songs and boasting a stellar line up that includes Sizzla, Vybz Kartel,Ky-mani Marley, Mavado, I-Octane, Demarco, Masicka, Jahmiel, Bugle,and many more Jamaican artists, for a total of 15 tracks, each of them is a hit destined to get crazy airplays and given how quickly the riddim is getting viral with DJs and sound system, from all over the world, releasing a mix for it, pon youtube or sound cloud right now.
Ky-Many Marley love song, Bugle talking about priorities, Jahmiel with the incredible and real Do You Remember Me, Kartel with another sexy hit banger promising to he'll Take You There, Vershon's new sexy anthem, Sizzla on fire…  all  these artists took the riddim in a different way with their songs.
DOWNLOAD CURE PAIN RIDDIM MIX FULL
Check the full Cure Pain Riddim track listing & full mix preview with download posted below.
LISTEN OR DOWNLOAD CURE PAIN RIDDIM MIX FULL – GOOD GOOD PRODUCTIONS – FEB 2016



CURE PAIN RIDDIM TRACK LISTING
Alkaline

 – My Side Of The Story (Clean)


Alkaline

 – My Side Of The Story (Raw)


Bryka

 – Shall I Will


Bugle

 – Priority


Demarco

 – Bun Friend Killa


I Octane

 – No Badda Dan Jah


Jahmiel

 – Where Were U


Kapella Don

 – In My Life


Kymani Marley

 – Rule My Heart


Masicka

 – Everything Mi Want (Clean)
Masicka

 – Everything Mi Want (Raw)


Mavado

 – Big League (Clean)


Mavado

 – Big League (Raw)


Rhyming King

 – Substance


Showtime Damion

 – Live Mi Life (Clean)


Showtime Damion

 – Live Mi Life (Raw)


Sizzla

 – No Phase Me


Vershon

 – Tie Mi (Clean)


Vershon –

 Tie Mi (Raw)


Vybz Kartel

 – I'll Take You There


Vybz Kartel

 – I'll Take You There


Good Good Productions

 – Cure Pain Riddim (Instrumental)
real deal