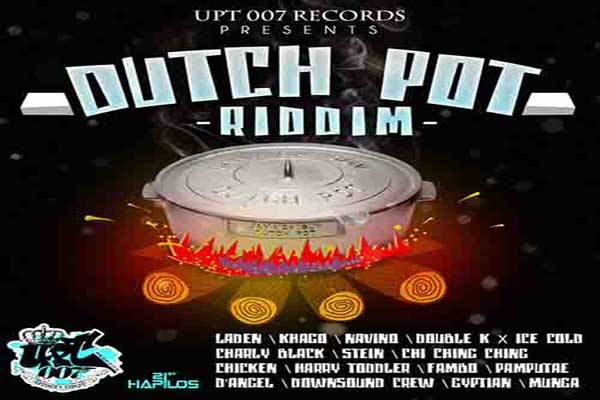 UPT 007 Records presents some blazing new dancehall songs featured in the "Dutch Pot" riddim that you can listen in the video posted below.
Voicing on the new riddim some of the best Jamaican Reggae & Dancehall artists of this era like Laden Khago, Navino, Double X and Ice Cold, Charly Black, Stein, Chi Ching Ching, Chicken, Harry Todler, Fambo, Pamputae, D'Angel, Downsound Crew, Gyptian and Munga voicing on it.
UPT 007  is a

collaboration

with Bobby Tukaz and veteran selecta/deejay Supa Hype, together they already have dished out such hits riddim as "JUICY" and POPCAAN's single "BADMIND".
Enjoy below the youtube video mix for Dutch Pot riddim that you can play for free in your computer or mobile phone device, while you can purchase the riddim on itunes clicking on the image above.
DUTCH POT RIDDIM MIXX BY DJ-M.o.M NAVINO, CHARLY BLACK, STEIN, GYPTIAN, MUNGA & MORE JAMAICAN ARTISTS

DUTCH POT RIDDIM TRACK LISTING
01. ICE COLD & DOUBLE K - CHEATER
02. MUNGA - DRACULA FI SCREAM [RAW]
03. MUNGA - DRACULA FI SCREAM [CLEAN]
04. CHARLEY BLACK - ALL DAY ALL NIGHT [RAW]
05. CHARLEY BLACK - ALL DAY ALL NIGHT [CLEAN]
06. CHICKEN - BEST BUBBLER
07. CHI CHING CHING - THE LINK
08. D'ANGEL - WINE UP
09. DOWNSOUND CREW - WHAT SHE WANT
10. GYPTIAN - HERE I AM
11. PUMPUTAE - DASH OUT [RAW]
12. PUMPUTAE - DASH OUT [CLEAN]
13. HARRY TODDLER - INTERNATIONAL GALLIS
14. FAMBO - PARTY HARD
15. KHAGO - HEAVEN
16. LADEN - SHE TUN UP
17. STEIN - VIRGIN [RAW]
18. STEIN - YOUR TING [CLEAN]
19. NAVINO - WE NUH RUN EEN
Listen to Dutch Pot Riddim Mix -
real deal