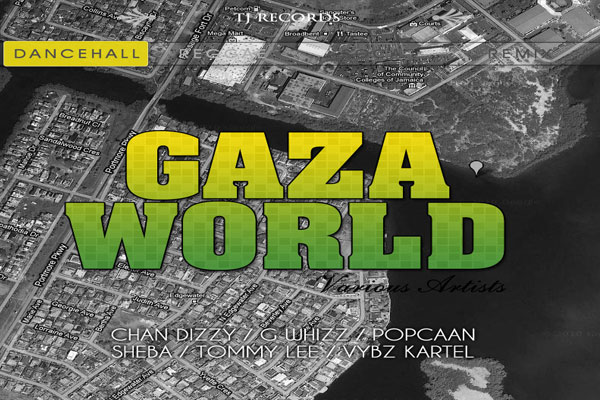 Among some of the best ever dancehall reggae riddims released during the past years, that made history in Jamaican dancehall music, one special place is reserved for Gaza world Riddim produced by TJ Records.
Gaza World Riddim sports songs fro some of the best Gaza Empire artists like Vybz Kartel, Shawn Storm, Popcaan, G Whizz, Chan Dizzy, Tommy Lee Sparta, Jah Vinci and Sheba during the golden era of Portmore Empire.
Originally released back in 2011, with such a big riddim and with all the artists voicing on it being still very relevant in Jamaican dancehall music, was just normal for TJ Records to re-master the whole riddim in HD high quality and re-launched it on the market so even the youngest Gaza fans can get familiar with Gaza World Riddim.
Gaza World riddim brought a lot of notoriety also over seas to all the artists that voiced on it and surely it will hit the target again.
Listen below to the full riddim mix and the get the full promo download after the stream. The riddim is available on iTunes for digital purchase clicking on the banner on this page.
Listen To Gaza World Riddim Mix (TJ Records)

DWNLD GAZA WORLD RIDDIM REMASTERED FULL
Gaza World Riddim Tracklist:
01 – 

Vybz Kartel

 – Real Bad Man (Remastered)
02 – 

Vybz Kartel

 – Real Bad Man (Remastered)

03 – Vybz Kartel – Life (Remastered)
04 – Popcaan – Cah Believe (Remastered)
05 – Popcaan – Middle Day (Remastered)
06 – Chan Dizzy – Dat Mi Know (Remastered)
07 – G Whizz – Bartender (Remastered)
08 – Tommy Lee – Money Make Friend (Remastered)
09 – Jah Vinci – Money Me A Pree (Remastered)
10 – Sheba – Money (Remastered)
11 – Sheba – Money (Remastered)
real deal