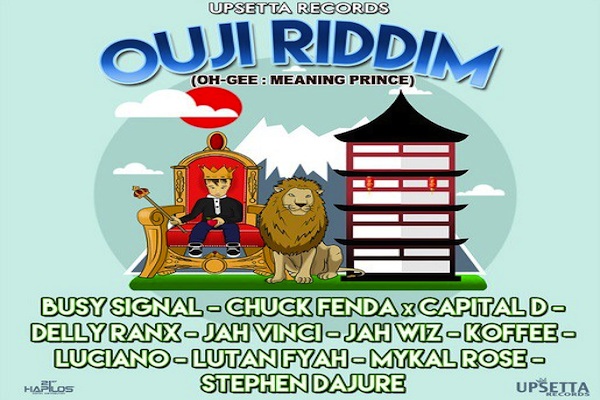 Famed Upsetta Records has yet another riddim on their hands with the star studded "Ouji Riddim" featuring both established reggae artists and upcoming rising stars.
Billboard artist Busy Signal, Chuck Fenda and Capital D, Delly Ranx, Jah Vinci, Jah Wiz, Luciano, Grammy award-singer Mykal Rose, Lutan Fyah, Stephen Dajure and introducing reggae's rising young star Koffee, voicing with so many heavy weights she killed the riddim.
Boasting an incredible line up of recording Jamaican reggae dancehall artists and some of their newest and top ranking reggae songs Ouji riddim is a reallybig new riddim coming out of Jamaica for the month of October 2017, check the full track listing for Ouji riddim below and stream the full promo mix to get familiar with it. This reggae riddim is ROYAL.
Distributed by 21st Hapilos Digital, "Ouji Riddim" is available on all major online digital stores and you can get your favorite song on it or the full Ouji riddim clicking on the iTunes banner on this page.


Listen To Ouji Riddim Mix ★OCT 2017★Busy Signal,Luciano,Lutan Fyah,Jah Vinci+more(Upsetta Records)Mix@djeasy
DWNLD OUJI RIDDIMFULL PROMO
Ouji Riddim Track listing
1. Busy Signal – Hold A Medi
2. Chuck Fenda & Capital D – Hunt Fi Di Food
3. Delly Ranx – Rise The Peace
4. Jah Vinci – Only Jah
5. Jah Wiz – Upfull Meditation
6. Koffee – Burning
7. Luciano – Jah Wind
8. Lutan Fyah – War Is Ugly
9. Mykal Rose – Be Wise
10.Stephen Dajure – Cool & Dreadly
real deal