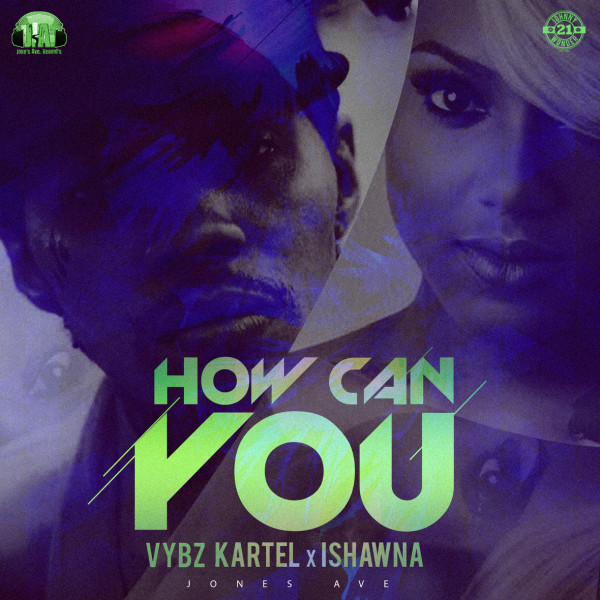 World Boss Vybz Kartel & Ishawna did it again and

just released a new fresh dancehall track together titled How Can You.
Two of Dancehall's most controversial artists, Vybz Kartel and Ishawna come together for a second collab. The relatable track tells a story of a man playing games with a woman and the woman asking why he is walking away from her love. The single is produced by Jones Ave and distributed by J Wonder 21 Digital Distributions. "How Can You" is now available on iTunes and you can get it clicking on the banner on this page.
Incarcerated Jamaican star Vybz Kartel and Jamaican dancehall diva Ishawna already created quite a buzz world wide with their previous collaborative explicit dancehall single Washer & Dryer, that you can listen clicking here, and now they dubbing up again with their newest "How Can You", an ironic dancehall duet about the difference between love and sex.
World Boss Vybz Kartel has a dope verse in which he tries to explain to his female counterpart Ishawna to don't confuse sex with love, why she is deejays back melodic rhymes and a vibrant hook that goes "How can you walk away from my love"..
Two of the most popular Jamaican entertainers right now that already took dancehall music by storm with their previous TJ Records produced Washer & Dryer single, are about to amaze their fans again with this Jones Ave Records new single "How Can You" destined to became another big hit in no time.
Beside the incarceration Vybz Kartel has been able to remain relevant and prevalent with his music, not just in his native Jamaica, where he still rules the dancehall scene, he also just went Gold with PartyNextDoor "Not Nice", his hit song "Fever "went in the R&B Billboard and has also been remixed by popular Us producer Diplo, while Busta Rhymes released Girlfriend, his latest single featuring Kartel and Tory Lanez.
Currently incarcerated by more than 6 years and sentenced in 2014 to 35 years without parole for the murder of Clive Lizard Williams, Vybz Kartel was given the right to appeal a trial the appeared shadowed by many questions marks and will start his battle to win his freedom back on February 2018, when the trial will start again.
LISTEN TO VYBZ KATEL FEATURING ISHAWNA – HOW CAN YOU – JONES AVE RECORDS -OFFICIAL AUDIO [JAMAICAN DANCEHALL MUSIC]
Vybz Kartel Featuring Ishawna – How Can You Lyrics
Don't you walk away from my love…
Don't you walk away from my love…
Don't you walk away from my love…
Summer love
Winter love
All year 'round, yeah
[Chorus: Ishawna]
How can you say you are in love?
You don't even know who to trust
I'm waiting with my open arms
Don't you walk away from my love
How can you say you are in love?
You don't even know who to trust
I'm waiting with my open arms
Don't you walk away from my love
Don't you walk away from my love
[Verse 1: Vybz Kartel]
Love and sex a two different things
Don't you treat them like one
Organize your feelings
Think it's forever, I need it just once
Ah, then I'm gone
Bye-bye, don't cry, I don't love anyoone…
except you, baby
Maybe tomorrow I'll see you
How can you say you are in love?
You don't even know who to trust
I'm waiting with my open arms
Don't you walk away from my love
How can you say you are in love?
You don't even know who to trust
I'm waiting with my open arms
Don't you walk away from my love
Don't you walk away from my love
[Verse 2: Ishawna]
Two of we together as one
Say that's the life you want
All them girls you've been with, put them together they don't make an answer, my love
But a me, you waan this
'Bout, "Ah, then I'm gone"
Everything cris…
[Chorus: Ishawna]
How can you say you are in love?
You don't even know who to trust
I'm waiting with my open arms
Don't you walk away from my love
How can you say you are in love?
You don't even know who to trust
I'm waiting with my open arms
Don't you walk away from my love
Don't you walk away from my love
Don't you walk away from my love…
(Don't you walk away from my love…)
Don't you walk away from my love…
(Don't you walk away from my love…)
Don't you walk away from my love…
(Don't you walk away from my love…)
Summer love
Winter love
All year 'round, yeah
[Chorus: Ishawna]
How can you say you are in love?
You don't even know who to trust
I'm waiting with my open arms
Don't you walk away from my love
How can you say you are in love?
You don't even know who to trust
I'm waiting with my open arms
Don't you walk away from my love
Don't you walk away from my love…

real deal