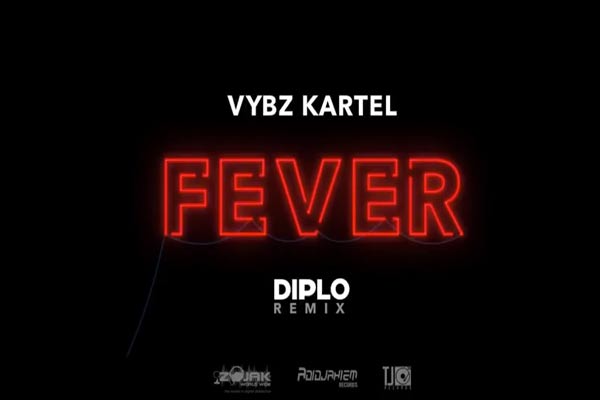 Summer time is the perfect time for a good remix.
World Boss Vybz Kartel's smashing hit single "Fever" already took last summer going viral and becoming the biggest song in dancehall music.
Vybz Kartel's "Fever" is featured in his latest studio album "King Of The Dancehall" produced by Tj Records and Vybz Kartel's own label Adidjahiem Records, and after already taking last summer there are strong chances "Fever" will take also summer 2017.
Popular american music producer Diplo remixed Vybz Kartel's single Fever adding his signature electro sounds to a song that already went atomic and just debuted in Billboard Top 50, only Jah knows with the new Diplo/Major Lazer fix which other universe it will conquer. New Galaxies.
Vybz Kartel has been behind bars since the end of 2011 and was few years later sentenced to life in jail without parole. While World Boss Vybz Kartel is getting ready to fight the biggest battle of his life, the battle to win back his freedom with the re opening of the trial and the appeal set to start next year in February, producers, djs, music labels and artists are eager to publish or edit old and new music from the Gaza General.
Is like if Vybz Kartel's music never looses its grip, it doesn't fear competitions and it doesn't fade away with trends and time, which is the essence of good music: as good wine gets better and better over the years.
Vybz Kartel's Fever already went mainstream and this new remix, that is also a tribute to the incarcerated artist by one of the most established music producers in the world, and a Jamaica and dancehall music friend's, Mr Diplo himself, will make Fever a song to remember also in other avenues. A lot of new fans will get the fever because this remix it's dope, listen below.
Get Vybz Kartel's Fever, Diplo's Remix on iTunes clicking on the banner below.
Listen to Vybz Kartel – Fever (Diplo Remix)



real deal