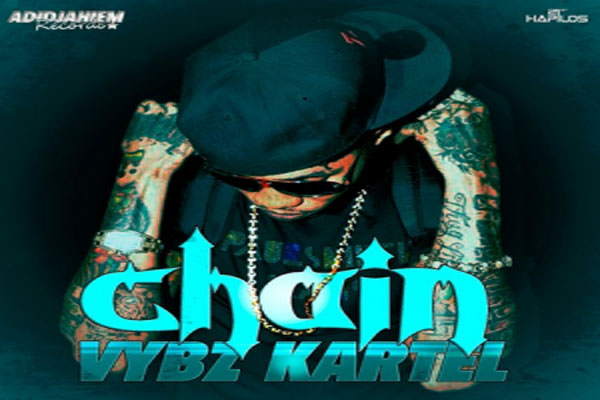 Listen to a new dancehall music single from Addi di Teacher Vybz Kartel, titled Chain and produced by his own label Adidjahiem Records.
The new Vybz Kartel single has been dubbed a diss to Alkaline and, while you can judge by yourself reading the lyrics posted below, the single seems to target all those artists that want and aspire to take World Boss place and went around saying in various interviews they are the new King of dancehall, they run the dancehall or they compared themselves to him.
This new Vybz Kartel track is one of the baddest dancehall war songs release in 2015.
Kartel is always a top striker and the Youths listen to him, Chain is now available for digital download on iTunes clicking on the banner on this page and enjoy the full stream and full lyrics, to sing word by word with incarcerated dancehall boss Vybz Kartel Adidja Azim Palmer.
LISTEN TO VYBZ KARTEL NEW SINGLE – CHAIN -ADIDJAHEIM RECORDS



VYB KARTEL – CHAIN – LYRICS
Weather Man get one inna him brain bout brought sunny day
Addi a the King and everyday mi a reign
Lyrical drugs we go straight inna vein
I Q height it haffi stay inna the plane
hombre mi never dey dey when Abel a dead
so mi still drink rum enuh mi nuh blame Cain, me have a brain
inna a mainframe, dem have a poddle mi have a great den
when the dog start bark disappear Dave Blaine
top striker but I never play game
Yeah mi have a reputation to maintain
Musii never hear bout some weh name Spain
Slavery done long time my youth
but mi love jewerly so mi still wear chain
run away slave run away
Train man unstoppable a GAZA

Call the boss 9.58 caw a me run the place,
no a nuh usian a mi brain mi a race
when a nuh Adidja a maze inna grace
we have it lock like a pay fi a saf
Yuh nuh see the little fool dem cry ah find song
bout him hitch up inna studio a gaze inna space
me have a smile dem a have a straight face
me never shy dem never bare face
yuh nuh hear dem catch a Tracy a trace
Gridle yuh wear Nike air mi a lace
Turtle yuh name like baby a face
step up fi yours or fail inna ah
Him seh him go run a dancehall and
badda than Teacha, faith him a waste
yuh have a house a live
inna my style come out a my yard
and go pay for a place
Weather Man get one inna him brain bout brought sunny day
Addi a the King and everyday mi a reign
Lyrical drugs we go straight inna vein
I Q height it haffi stay inna the plane
hombre mi never dey dey when Abel a dead
so mi still drink rum enuh mi nuh blame Cain, me have a brain
inna a mainframe, dem have a poddle mi have a great den
when the dog start bark disappear Dave Blaine
top striker but I never play game
Yeah mi have a reputation to maintain
Musii never hear bout some weh name Spain
Slavery done long time my youth
but mi love jewerly so mi still wear chain
run away slave run away

real deal