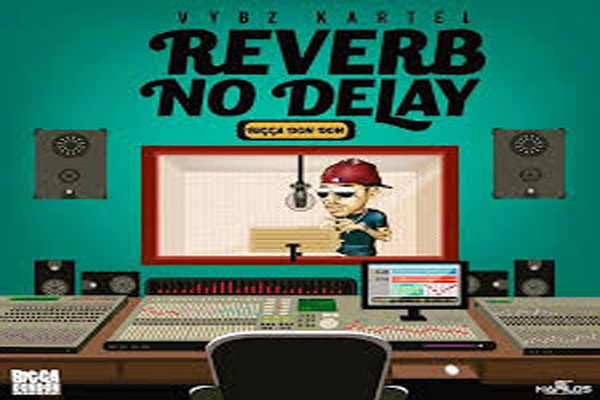 Bigga Don Don Records released a new dancehal music single titled Reverb No Delay from incarcerated dancehall star Vybz Kartel.
Marking a new musical release that is already going viral on the internet thanks to the usual catchy delivery and funky lyrics, listen below to a new dancehall single from World Boss Vybz Kartel and scroll further down for – Reverb No Delay - full lyrics.
Already available for digital download on I-Tunes, click on the banner on this page to get Kartel's new song – Reverb No Delay.
Listen To Vybz Kartel – Reverb No Delay – Bigga Don Don Records




Vybz Kartel – Reverb No Delay Lyrics
[Chorus]
Grab up you two breast fi mi
Reverb no delay
Mi have something fi gi dem
Nothing less than a feel up
Mi like that
My balls is a grenade
Everybody know how grenade go
Up two three suh the parade go
Way up subsidy
[Verse 1]
Look so good
And when you do yo nail wa you up to
How some gyal come fi stay suh
Just waan si a bed fi lay down
A nuh you could a be the dezuta
Your supn nice like bottle cork up
Gyal from Trini and Tobago
Anyweh you deh teacher deh go
[Chorus]
Grab up you two breast fi mi
Reverb no delay
Mi have something fi gi dem
Nothing less than a feel up
Mi like that
My balls is a grenade
Everybody know how grenade go
Up two three suh the parade go
Way up subsidy
[Verse 2]
Bubble hard, bubble hard, bubble hard gyal
You nuh ready fi gwaan a you yard gyal
Bubble hard, bubble hard, bubble hard gyal
You nuh ready fi gwaan a you yard gyal
Cock it up, cock it up, up
Cock it up, cock it up, up
Cock it up, cock it up, up
[Chorus]
Grab up you two breast fi mi
Reverb no delay
Mi have something fi gi dem
Nothing less than a feel up
Mi like that
My balls is a grenade
Everybody know how grenade go
Up two three suh the parade go
Way up subsidy
[Verse 1]
Look so good
And when you do yo nail wa you up to
How some gyal come fi stay suh
Just waan si a bed fi lay down
A nuh you could a be the dezuta
Your supn nice like bottle cork up
Gyal from Trini and Tobago
Anyweh you deh teacher deh go
[Chorus]
Grab up you two breast fi mi
Reverb no delay
Mi have something fi gi dem
Nothing less than a feel up
Mi like that
My balls is a grenade
Everybody know how grenade go
Up two three suh the parade go
Way up subsidy
[Repeat Chorus]
real deal