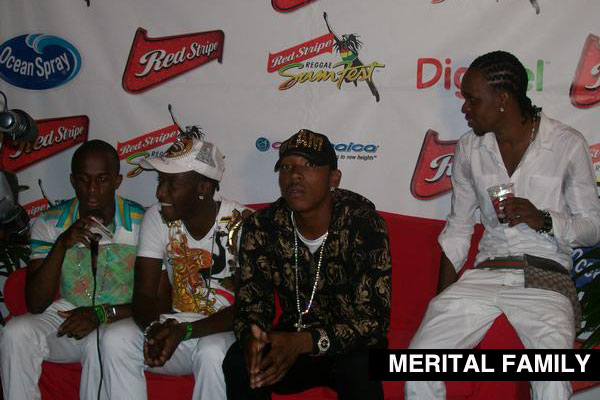 Dancehall group Merital Family, from Montego Bay Jamaica, has announced that they are officially parting ways with the Portmore Empire, and will be handling their own booking and management in the near future.

"For the last year and a half, we ah get stifle, we ah get overpriced, dem a tell people say we de pon tour and we de ya nah go nowhere. We ah suffer, we nah get no promotion, we have kids to feed and me have my mother to take care of," one of the members of Merital Family said.>

"We have been loyal to the organization, and it is not being loyal to us…no video, no promotion, no recording. Mi fed up and tired. We caan reason or have a number for the man who run the organization that we are supposed to be signed to," another group member said.They got fed up with the empire Management.
The group said they missed out on opportunities to meet icons in dancehall because of their affiliation with the Gaza.
"Mi come to do music and sake ah the Empire, we never get to contact certain producers and artistes, or meet with icons in the business like Bounty Killer, just because of the Empire."

WATCH VYBZ KARTEL & MERITAL FAMILY OMV – MY MONEY
The group added Vybz Kartel removed them as the writers of their hit single, "My Money Ha Ha."
"VP Records called us about doing some promotion of the song, and that's how we found out it had been sold to a record label. So we called Tarik 'Russian' Johnston and asked why him never tell we about the money and he said 'Kartel ah yu leader, mi think he would let you know', and then we checked with our publishers and they told us that the credits for the writer of the song was Adidja Palmer and it was produced by Russian, that's all, no recognition, nothing, what about our publishing and our rights? We have our song before we met Kartel and the song became a hit and we no achieve anything from it."
Is Vybz Kartel 'sPortmore Empire crumbling? Will Vybz Kartel look out for new talents?  Stay tuned…
real deal