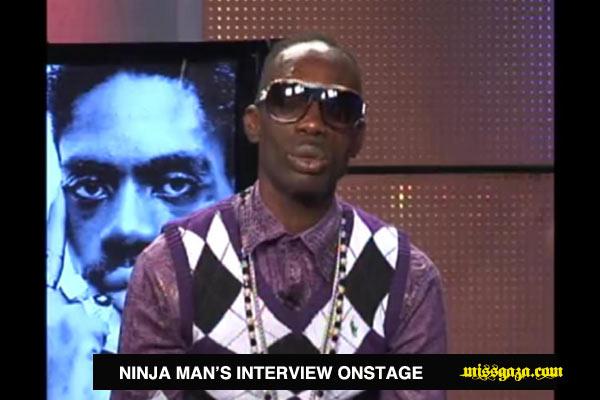 Ninja Man fans and Dancehall students will enjoy another very interesting episode of Winford Williams's On Stage show: an unmissable interview with Ninja Man.
Don Gorgon reasons with his host on the latest legal woes of a lot of artists: Buju Banton, Busy Signal, Vybz Kartel, Bounty Killer, Elephant Man, Mavado… and also his own case, reflecting on why seven of the top 10 Jamaican Dancehall artists are having issues with the law right now.
Ninja Man is being out on bail from 6 weeks and when asked what he missed more he answered with no hesitation his freedom.
Williams asked him a lot of questions and Ninja Man even describes in details a typical prison day before analyzing and giving his views on what happened to Dancehall music in the 3 years he was gone. This interview touches a lot of different topics and subjects very directly. Ninja Man comes out smart and spiritual and he also encourages the youths and the new Dancehall artists to get an education.
Don Gorgon talks about Buju Banton, explaining how much Buju is loved and why he is so crucial to Dancehall music and how much he is his DJ even if he never brought up Ninja's name in his songs.
Then they talk about Kartel, Elephant Man, Bounty Killer, Busy Signal and Mavado's legal cases and much more in this intense interview packed with information, recaps, political views, laughs and music insights as well as Ninja's own musical plans.
WATCH NINJA MAN INTERVIEW ON STAGE TV WITH WINFORD WILLIAMS – MAY 2012
Watch Ninja Man ft. Queen Omega – Bad Man Cant Make Love-Official Video

real deal