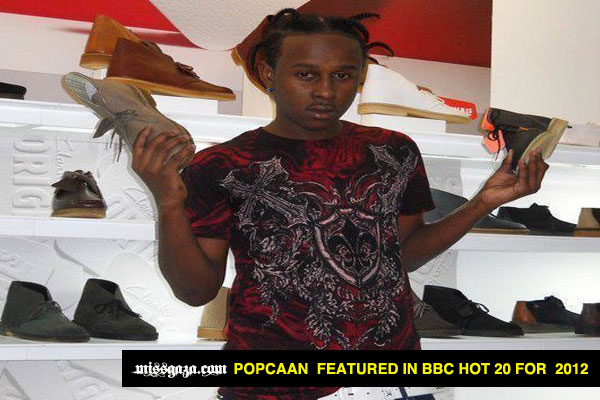 United Kingdom based BBC's Radio 1Xtra has chosen young Jamaican recording artist Popcaan as one of its 'Hot 20 for 2012.Popcaan is the only Jamaican to appear on the list.
Big Ups!- BBC Radio 1Xtra is a digital radio station based in United Kingdom and it is part of BBC, and their radio channel is specialized in new black music or urban music – UK is where the real money are, so this is big for Poppy Hotskull.
You can visit BBC station's website,  where all 20 acts are featured in a video interview. Popcaan's interview, two-minutes long, was done in his homeland, Jamaica.
The list, which was revealed last week, is the station's collection of the 20 acts they think will make an impact in 2012.
In the short interview Popcaan talks about growing up in St Thomas and Portmore, as he describes himself as being a "loving person" to his friends and family. He also gives credit to the collaboration Clarks with his mentor Vybz Kartel and Gaza Slim, as being what brought attention to his career, to which he followed up with other popular songs.
Speaking about what inspires his lyrics, the young Gaza Prince touches on the controversial topic of the relationship between Dancehall Music and crime.
He says, "Nuff people feel say Dancehall Music sparks violence and crime in the  community and those type of things. But is not really like that yuh zee it. Di artists dem sing what they see and what dem hear. So Big Ups to Dancehall Music  and Reggae Music."
The Jamaican artist is about to  shoot the video for his song Party Shot from TJ Records. The video will be directed by Mykal Cushnie. He also released his first single for the year, Get Gyal Easy, produced by Dre Skull Records.
POPCAAN GET GYAL EASY -DRE SKULL MIXPAK RECORDS

real deal