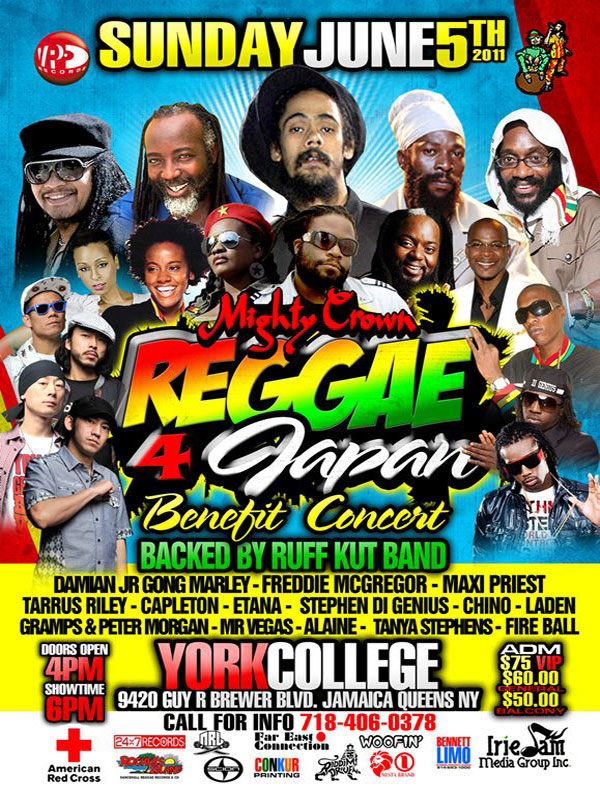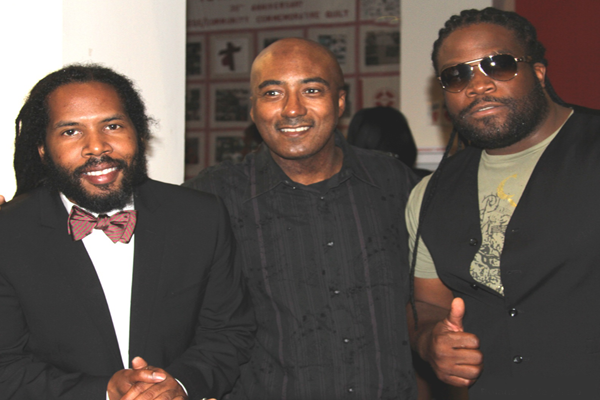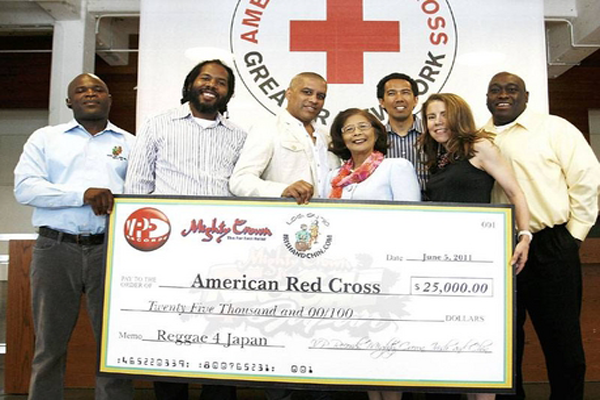 The event Reggae 4 Japan staged last month in Queens, Nyc , was a huge success.A lot of patrons attended, the line up of artists and talents on stage was heavy as well as the sense of unit surrounding the whole event.
Reggae 4 Japan raised US $25,000 for the American Red Cross  "Japan Earthquake and Pacific Tsunami Relief Effort".Held at the York College in Queens, New York, on June 5, Reggae 4 Japan is the charity show organized by Japanese Sound Mighty Crown, their management Irish and Chin, alongside VP Records. The team of organizers officially handed over US $25,000 to the Red Cross last Thursday at their headquarters in New York.
The concert saw the Jamaican entertainment fraternity uniting to assist Japan after the earthquake and resulting tsunami that devastated the country on March 11. Recorded as 9.0 on the Richter scale, it was the most powerful quake ever to hit the country.The concert saw the likes of reggae's 'artists including Freddie McGregor with his sons Chino and Stephen McGregor, Maxi Priest, Damian 'Jr Gong' Marley, Gramps and Peetah Morgan, Duane Stephenson, Mr Vegas, Capleton, and more.
A total of 18 artists performed, including three surprise acts such as King Shabba Ranks and rapper Nas. The show filled to capacity the York College's auditorium which seats 1,200 persons.According to the organizers, Reggae 4 Japan is one of many steps they will take during the course of the year to support Japan relief efforts and they are anxious to identify future fund-raising opportunities.Every act said a few lines of their own about Japan. But the star comment came from queen of Jamaican dancehall TANYA STEPHENS, who shouted out "I'm not here to do something for Japan, I'm here to say thanks to Japan for doing so much for us". Big Ups Artists! Big Up Japan!Enjoy some videos of the life event!
Reggae 4 Japan Damian Marley & Nas Live
[youtube width="640" height="344"]http://www.youtube.com/watch?v=oG5ScelEk5A[/youtube]
Reggae 4 japan Live Shows Shabba Ranks & More June 2011[youtube width="640" height="344"]http://www.youtube.com/watch?v=jpLmO1NiFNE[/youtube]
real deal