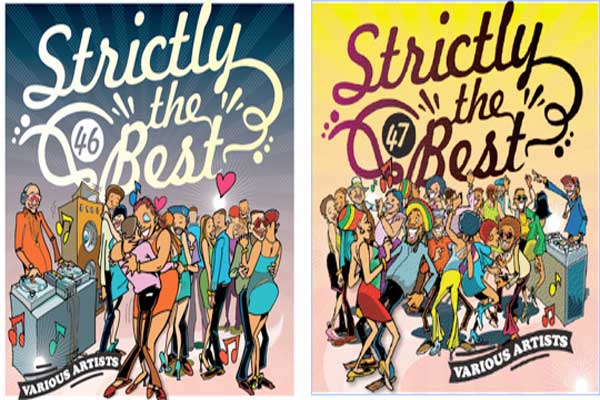 On December 4, VP Records releases Volumes 46 and 47 from their Strictly The Best series. Established in 1993, Strictly The Best is the longest-running annual reggae compilation in the business.
Each fall, VP carefully chooses the most exclusive tunes to keep the pace with the biggest Jamaican hits. This go-to compilation showcases the most buzz-worthy and talented artists and has been the proving ground for many of the genre's biggest stars today.
This year's album covers are adorned with the illustrations by acclaimed Jamaica Observer cartoonist Clovis Brown. Each installment also includes a bonus disc spotlighting the series' favorite throwback hits in spirit of Jamaica's 50th Anniversary.
Strictly the Best Vol. 46 offers the smooth singer sounds that are currently heating up the clubs and radio airwaves in the Caribbean community.
The set features roots and lover's rock hits including the iconic Beres Hammond's "Dancing Beauty," Tarrus Riley's "Lover's Leap," Etana's "Start Over," Christopher Martin's "If I Were A Carpenter" and Gyptian's "One More Night."
Strictly the Best Vol. 47 provides the season's hottest Jamaican dancehall tunes that are banging in the streets.
Highlights include "Summer Wave"from rising star Popcaan, "We Love Di Vibes" from untouchable I-Octane, "Bruk It Down" by dancehall don Mr. Vegas, "Stop Sign" from 2012 MOBO 'Best Reggae Artist' nominee Konshens, "Get Gal Easy" by the notorious Vybz Kartel, "How Deep Is Your Love" ft. Kelly Rowland off Sean Paul's latest Tomahawk Technique album and three hits ("Some Bwoy," "Psycho" and "Uncle Demon") from Tommy Lee Sparta, one of most-talked about deejays at the moment.  
Watch The Return – Morgan Heritage Official Video 
Strictly The Best 46 Track Listing 

DISC 1 (Current Hits)
1. The Return – Morgan Heritage 2. Sound Alarm – Iba Mahr 3. Reggae Music Again – Busy Signal 4. Dancing Beauty – Beres Hammond 5. Lover's Leap – Tarrus Riley 6. If I Were A Carpenter – Christopher Martin 7. One More Night – Gyptian 8. Start Over – Etana 9. Fired Up Inside – Romain Virgo 10. By My Side – Chino 11. Can't Take My Eyes Off Of You – Jamelody 12. That Girl – Jah Cure 13. Africa – Freddie McGregor
Strictly The Best DISC 2  - Track Listing (Classic Hits)
1. God Is Standing By – George Nooks 2. Never Dis The Man - Sanchez 3. Raid The Barn – Anthony B 4. By His Deeds –V.C. 5. Princess Gone – Jah Mason 6. Love So Nice – Jr. Kelly 7. Beautiful Lady – Gyptian 8. Warrior Love – Etana 9. Lonely Girl – Bascom X 10. One More Night – Busy Signal 11. Your Love Is My Love – Terry Linen 12. Mus Come A Road – Mr. Vegas
Strictly The Best Vol 47 -

 DISC 1 (Current Hits) Track Listing
1. Summer Wave – Popcaan 2. We Love Di Vibes – I Octane 3. Bruk It Down – Mr. Vegas 4. Jump – RDX 5. Stop Sign – Konshens 6. Get Gal Easy – Vybz Kartel 7. Rebel – Cherine Anderson featuring DI 8. How Deep Is Your Love – Sean Paul featuring Kelly Rowland 9. Some Bwoy – Tommy Lee Sparta 10. La a Land – Aidonia 11. Psycho – Tommy Lee Sparta 12. No Long Talking – Bounty Killer 13. Uncle Demon – Tommy Lee Sparta
I-OCTANE – LOVE DI VIBES/JIGGLE FI MI -Official Video



Strictly The Best Vol 47 - DISC 2 (Classic Hits)- Track Listing
1. Hot Stepper – Ini Kamoze 2. Them A Bleach – Nardo Ranks 3. Poco Man Jam – Gregory Peck 4. Down In Jamaica – Red Fox & Naturalee 5. Blackboard – Beenie Man 6. Faith – Tony Curtis 7. Goggle – Tanya Stephens 8. Go Go Wine – Captain Barkey 9. Peanut Punch – Fabby Dolly 10. Badman Forward – Ding Dong 11. Sufferah – Bounty Killer 12. Badmind – Capleton 13. Kimbo King – Reggie Stepper
real deal