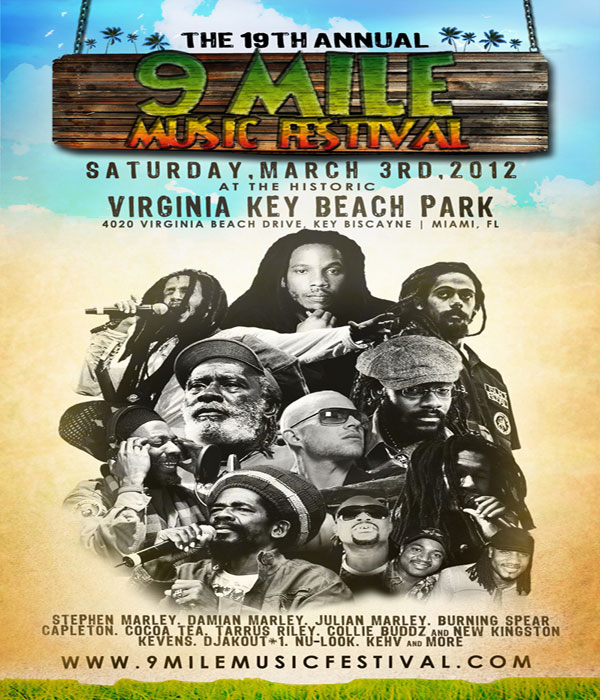 Massive! It's that time of the year again! The 19th annual 9 Mile Music Festival is about to start in jus ta matter of days! The line -up is incredible!
From Stephen to Damian To Julian Marley,Tarrus Riley, Burning Spear, Capleton, Cocoa Tea, Fiona May, Collie Buddz ..and more. Unmissable appointment for all the Reggae Lovers of di World, especially unmissable for  all the South Florida residents in love with reggae music. Bring your flag ..and see you there. Bless!
Check some of the latest new songs and new music releases in reggae dancehall music from the artists that will perform at the 19th 9 Mile Music Festival!

Re-posting Damian Gong Zilla Marley new single Affairs Of The Heart, I know it's the 3rd time since it came out, but can't help it, because I like this song a lot. Beside being so catchy that you can sing along after have heard it just once, and that's the immortal formula for any hit, it's a very uplifting and positive love song.
Damian "Jr. Gong" Marley – Affairs Of The Heart Music Video
Capleton The Return Saucey Head Riddim from last month.
CAPLETON – THE RETURN – SAUCEY HEAD RIDDIM – DJ SUNSHINE – JANUARY 2012
Collie Buddz I Feel So Good on Kush Morning Riddim released last month
Collie Buddz- I Feel So Good



real deal