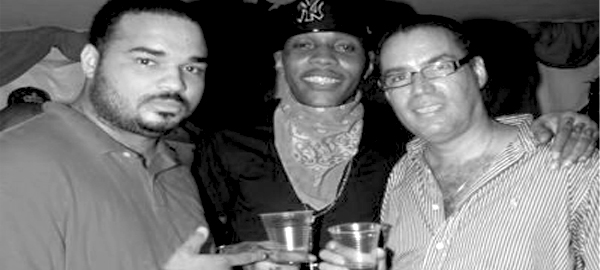 In a press release just send out Corey Todd stated that he will no longer be conducting businesses with Vybz Kartel due to alleged threats made against his life.
American businessmanCorey Todd has chosen to immediately dissolve his business partnership with Adidja Palmer a.k.a Vybz Kartel in the wake of alleged threats made against Todd's life. Corey Toddis the man behind brands such asStreet Vybz Rum andDaggering Condoms,he has been Vybz Kartel's manager for quite few years and helped the artists build his career.ToddandPalmer started the Unlimited Daggering company three years ago to manufacture, market and distribute Street Vybz Rum.
Building nightclub in New Kingston.  to reassure his workers that he would find employment for them in his other business ventures if they are displaced.
I know is all different but for a micro second  this story made me think of an analogy with the bitter split Don Taylor  tells in the beginning of his book,Marley & Me, as Bob Marley's manager. If the story is true, Bob Marley asked to Don Taylor  to resign from his manager role  "Sign my paper Don Taylor or I 'm going to blow you away" pointing him a black, huge, automatic 9mm pistol and his road manager, Allen Cole did the same in some house in Miami in 1980, Don Taylor wrote.
I wonder if Corey and Kartel ever read that book there 's some small analogy but Don Taylor actually never called cops or reported Bob for that episode.
VYBZ KARTEL'S FORMER BIZ PARTNER COREY TODD INTERVIEW ONSTAGE TV WITH WINFORD WILLIAMS

real deal