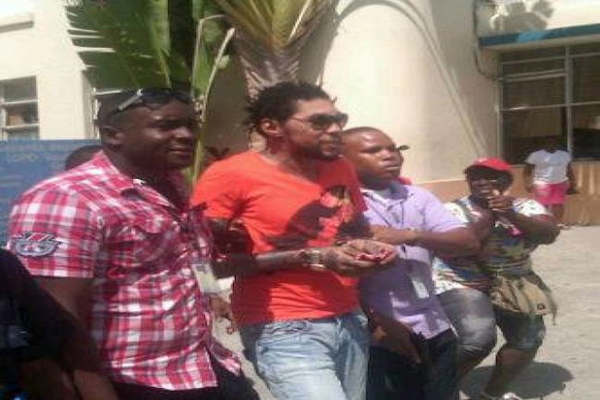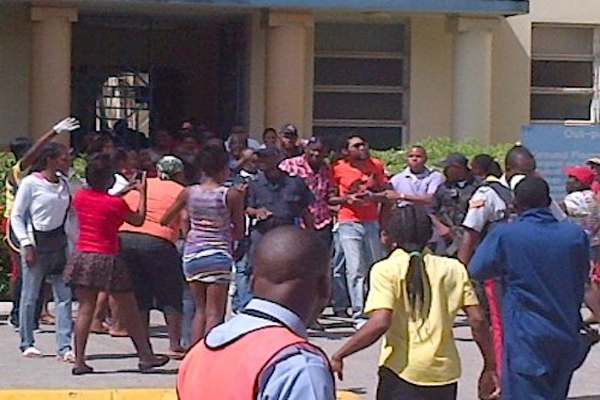 World Boss Adidja 'Vybz Kartel' Palmer, was taken  from Horizon Center to the Kingston Public Hospital earlier this morning after reportedly complaining about chest pains.
As you can see yourself in the photos above his arrival was not un noticed :patients visiting the hospital flocked to a section of the institution to get a glimpse of Addi, Vybz Kartel was handcuffed and dressed with regular clothes. Adidja Palmer Vybz Kartel was taken to the X-ray department of the Kingston Hospital.
LISTEN TO VYBZ KARTEL BACK TO LIFE
Vybz Kartel was rushed to the KPH after complaining about severe pain to his chest and  was surrounded by heavy armed police officers  the whole time. After performing the exam on his chest the Jamaican superstar was brought back to the Horizon Remand Center prison in a grey car.
Vybz Kartel

has been feeling better since the visit to the hospital, but he is now back in his cell. He has been behind bars since the end of Sept 2011 without obtaining bail and he still awaits trials for the alleged murder cases and will return to court with his co-accused during the first week of July.
Fans of Vybz Kartel

have been worried about their favorite deejay health's scare and feel well messages and love and support have been pouring into social medias with everybody wishing the dancehall icon a fast recovering.
LISTEN TO VYBZ KARTEL – BUSINESS PT 2



real deal