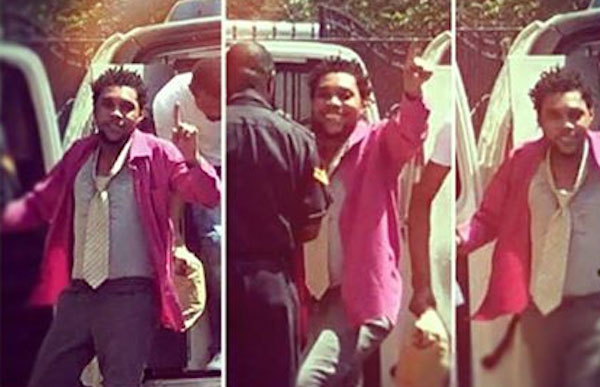 Police were called into action this afternoon to remove a large group of people who had converged in the precincts of the Supreme Court where the murder trial of dancehall artiste Vybz Kartel is being heard.
The crowd comprising mainly teenage school children had flocked the nearby streets after rumours that Kartel had been freed of the murder of Clive 'Lizard' Williams. They ran along King Street and Tower Street chanting that the artiste was freed. But at that time, the matter was only on an adjournment to resume at 2 p.m. 
VYBZ KARTEL – DEFEND ME SELF  - UIM RECORDS- JULY 2011[youtube]http://www.youtube.com/watch?v=wT4Q2zqi9q0[/youtube]
The police insisted that the crowd leave the precincts of the court. They complied and instead gathered on Church Street near the the 'Secret Garden' children's monument. Meanwhile, when the Vybz Kartel trial resumed at 2 p.m it was further adjourned until tomorrow as no witnesses were available. 
There was also no morning session today because the Digicel telecommunications expert could not attend court to give evidence. An early adjournment was also granted yesterday to allow defence lawyers to interview the telecommunications experts. 
However, this morning defence lawyer, Tom Tavares-Finson told the court that when the defence team went to the company's headquarters in downtown Kingston yesterday, the attorneys were told that the systems were down. Vybz Kartel's lawyer sais his defense team stayed for about one hour but there was no change. 
About Mr Lamar Chow and his yesterday  testimony were he kept dening he fabricated the whole story as more than a defence lawyer suggested pointing out the inconsisency of his story, why he's afraid to look in the eyes people, not just Kartel and co-accused but also the lawyers? Why if a man carries such a big truth he is afraid to look people in the eyes while he's talking…that little details still puzzles me and hopefully some of the jurors will fins this at least suspiscios as well.
The trial will re- start tomorrow. 
VYBZ KARTEL – BAIL FOR ME[youtube]http://www.youtube.com/watch?v=K-UAps8NlYQ[/youtube]
real deal