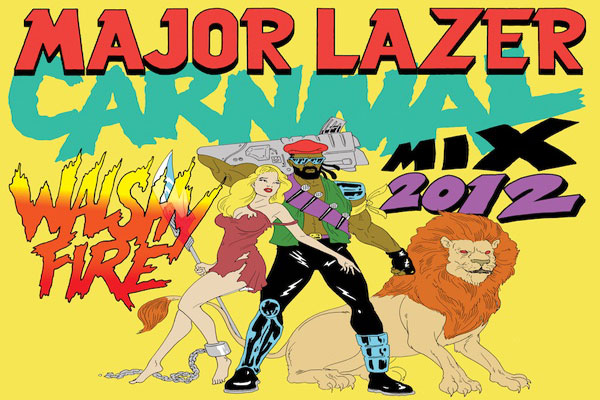 Catch up with Walshy Fire aka Walshy Killah – Black Chiney/ Major Lazer and his busy schedule for the Carnival season in full swing and blast Major Lazer Carnival 2012 Mix.
Get some new music just in time for
London's Notting Hill Carnival
and the :47 sold out
Major Lazer Notting Hill Block Party.
Here's  Walshy Fire's mix  called "Major Lazer Carnival". If you are going to be in London for Carnival, you should def play Mas!
Walshy Fire will be on the road MCing for the band ABIR.
Download Walshy Fire Major Lazer Carnival Mix 2012
After London Walshy will head straight to NY and then Miami.
Here's the ultimate breakfast party for both…Saturday Sept 2 Amnesia and Saturday morning 4AM the inclusive breakfast Amnesia Miami! Look at that DJ line up tho!!!! http://www.facebook.com/events/213787775417642/ Tickets go on sale Labor Day Weekend. A full rundown of all the Miami events will be coming sooooon! Stay up to date with @AmnesiaMiamiAM
Black Chiney Anniversary Party is going down Saturday Sept 8th…Shanghai Knights http://www.facebook.com/events/371835889555417/. Finally a Reggae party!!!! Legendary Waggy T who just had 1000 people who couldn't get into his party at Opium, Miami's newest BIG sound Kendall's very own Eccentrix, and the legendary House Arrest bringing the soca.
And look out for the Major Lazer album to drop sooooon!

Major Lazer Carnival Mix 2012 Tracklist:
1.Intro - D.W.A.Y
2. RDX – Jump (Major Lazer Dub)
3. Swappi - Bubble On A DJ
4. Vybz Kartel – Half On A Baby (Dubble Dutch Remix)
5. Vybz Kartel -Bubble Hard
6. Busy Signal – How You Bad So
7. Ele – Wine Pon (Major Lazer)
8. Mrs. Dynamite - Sweat Thru (Diplo)
9. Mr. Vegas - Bruk It Down (Walshy Fire x So Shifty Remix)
10. Popcaan - Body Good (So Shifty Remix)
11. Skit – Guyana Rude Boy
12. Busy – Doggystyle (Schlachthofbronx)
13. Vybz Kartel – Wire Fence
14. Mr. Vegas -Tun Up
15. Vybz Kartel Ft Tina Nunnezz – Bubble
16. Loudspeaker - Machel Montano – Go Down (Dre Skull)
17. Loudspeaker - Popcaan-The System
18. ORANGE HILL FT.VYBZ KARTEL – Pon Time
19. Inches – Jiggle It
20. Mr. G - Jiggle It
21. No Doubt – Settle Down (Major Lazer Remix)
22. Popcaan – Party Shot (Major Lazer x Etc Etc Remix)
23. Konshens – Gal A Bubble (Major Lazer Dub)
24. Busy – Boomayay (Major Lazer x Flexican)
25. Busy Signal – REAL SPENDER$ (DJ THEORY REFIX)
26. 5D Riddim Zeke Don – Eye
27. 5D Riddim Dejavu – Tec Da Touch Ya
28. 5D Riddim Dilly Chris – Me Know You Waa Me
29. 5D Rddim Shantwa – Fabulocious
30. 5D Riddim Cilon – One More Time
31. Baby Cham - Drop It
32. Popcaan – So bad (Adde remix)
33. So BAd Riddim – Vybz Kartel – GI WEH DI PUM PUM (Yung Vibez)
34. So BAd Riddim – TOMMY LEE- SOME BWOY (Yung Vibez)
35. So BAd Riddim – Vybz Kartel -WE NEVER FEAR DEM (Yung Vibez)
36. Kling Klang Riddim – Suku - Mad Sumaddy (Dre Skull)
37. Kling Klang Riddim – Popcaan - So We Do It (Dre Skull)
38. Kling Klang Riddim – Beenie Man – Super Model (Dre Skull)
39. Kling Klang Riddim – Tifa – Champion Bubbler (Dre Skull)
40. Vybz Kartel – Beat up di pussy (Adde remix)
41. Charly Black - BUBBLING PARTY
42. Potential Kid – Yah So Nice (Walshy Fire Dub)
43. Movado ft Chipmunk – More Money More Gyal
44. Bassline Riddim – Busy Signal – CYAAN BELIEVE(BUBBLE UP) (Di Genius)
45. Bassline Riddim – Assassin – WISH BAD (Di Genius)
46. Bassline Riddim- Sean Paul – FIND IT (Di Genius)
47. Bassline Riddim – Aidonia – BAD INNA DANCE (Di Genius)
48. Bassline Riddim – Mavado – I SWEAR (Di Genius)
49. CROWD RESPONSE Riddim -Vybz Kartel -WAH YUH (Don Corleon)
50. CROWD RESPONSE Riddim-Popcaan- ME A DI MAN (Don Corleon)
51. Popcaan- FRY YIY
52. Busy Signal – TIL IT BUCK
53. Busy Signal - Wine Deh Shot
54. Bling Dawg – Anyweh
55. Skit – Bumboclot
56. Popcaan - Get Gyal Easy
57. Backway – Bounty Killa ft Cecile – RIDE (Mad House)
58. BackWay – Baby Cham - BACK WAY (Mad House)
59. Daseca – Konshens – A SO ME TAN
60.Baby Cham featuring O -TUN UP
61. D.A. ft Supa Dups – Too Cool Featuring Vybz Kartel
62. Zimboo - Skit 
63. Schlachthofbronx – Dickie Riddim
64. Mavado Dubstep – Undah Yuh Skirt (Zeds Dead)
www.twitter.com/majorlazer
www.twitter.com/walshyfire
real deal