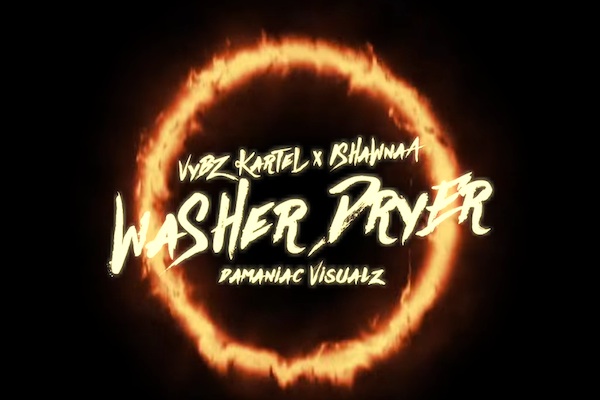 Jamaican World Boss Vybz Kartel and dancehall diva Ishawna latest dancehall hit single Washer & Dryer, produced by Vybz Kartel's own label Adidjaheim Records, debuted the official music video.
Directed and edited by Damanic in this new music video Kartel's animated cartoony face appears on the screen deejaying Washer & Dryer lyrics, while female dancers moves sultry on a washing machine. Jamaican popular dancehall star Ishawna shows some skin wearing just a leather jacket & some undies making the heat of their latest slack song raise up.
This is the first time ever in a video we see gals whine pon a washer or dryer machine so this music video is something unique in its own right but we bet after this video it could become a new trend, just try playing Washer & Dryer in your laundry's room lol
World Boss has been behind bars since September of 2011 so he could not take part of any of the music videos that have been filmed during the years of his long incarceration having some directors hiring look a like – Watch Vybz Kartel featuring Spice Conjugal Visit video here, or having other artists singing his lyrics.
Washer & Dryer latest official music video continues the popular cartoon style music video series and makes the video funny and remarkable, well blended with the whole song theme.
Fans of Vybz Kartel, Gaza Nation, the loyal and big movement of Vybz Kartel fans, can't wait for their idol to be free again and are awaiting for the re-opening of his trial. Vybz Kartel will have a chance to prove his innocence, after being sentenced to 35 years before parole behind bars, on February 19 2018 when his appeal will start again. He always proclaimed his hand are free of Clive Lizard Williams blood.
Vybz Kartel & Ishawna Washer & Dryer latest dancehall music single is available on iTunes clicking on the banner on this page.
WATCH VYBZ KARTEL FEATURING ISHAWNA WASHER & DRYER OFFICIAL MUSIC VIDEO

real deal