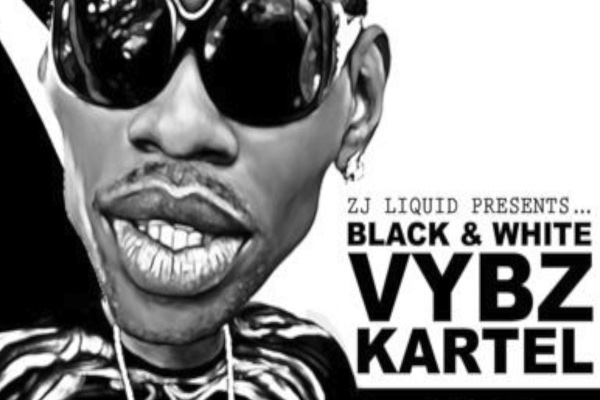 Jamaican hit maker and popular disc jock, producer, Zj Liquid, owner of H2O Records has finally released the long anticipated Vybz Kartel " Black and White" album.
The new Vybz Kartel's album is a lengthy thirteen tracks project, produced by ZJ Liquid and Don Corleon.
Vybz Kartel Black & White new album features hits as far back as 2003 during the time that H2O Records was founded.

"When I decided to venture into production, I had my objectives lined out and I was determined to make my mark in the music industry. Over the years, I had the opportunity to produce a few of Vybz Kartel's hits which I have now compiled into an album" Said ZJ Liquid.
The album was released during the month of March 2017 is being distributed on all major digital media outlets by 21st Hapilos, you cn get it clicking on the iTunes banner in this page.
The inspiration behind the album title is based on Vybz Kartel's change in physical appearance over the years.
The album features singles such as:
" Fix Up", " Hello Motto", " Live Your Life", "Dem Boy", Politics Time", "Gauge", " Big Man Thing", " Emoji", "Forever", " Life Mi Say", " Mother In Law", Old Before Young" and " Tek Love".
Zj Liquid also shares that this album will give the general public a better understanding of who he is as a producer since many fans tend to pay more attention to his Discjock persona.
Preview exclusively courtesy of iTunes the full Vybz Kartel Zj Liquid Don Corleon Album Black and White.
PREVIEW VYBZ KARTEL – BLACK AND WHITE- DANCEHALL REGGAE  ALBUM 2017 ZJ LIQUID H20 RECORDS
real deal