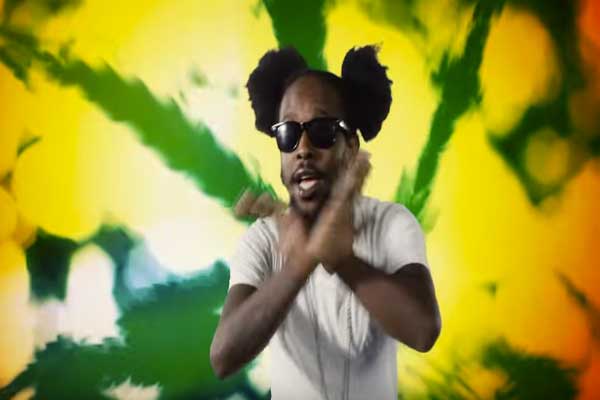 Jamaican recording artist Popcaan released the awaited visuals for one of his latest blazing dancehall song, "Weed Is My Best Friend".
Popcaan's new song "Weed Is My Best Friend" was recorded over the hits packed "Life Support Riddim," produced by Justus for Ja Productions.
Popcaan new music videos is directed by Steven "Streets" Bernard and edited by Andres Dalmastro & Justus Arison, watch it below.
This another blazing weed anthem for all the puffers out there and the lyrics are posted below.
Popcaan, real name Andre Sutherland, is a Jamaican dancehall reggae artist that has been consistently delivering hits on hits since his career was launched to stardom by Vybz Kartel and his Portmore Empire.
Doted with unique deejay skills and a great voice, this young Jamaican recording artist is a very bright star in dancehall reggae music, he is able to express feeling and emotions via his songs that a lot of youths can relate too.
Since 2012 Popcaan's career has kept raising and raising and he is one central figure in the music scene in Jamaica and the rest of the world, one of the most listened and streamed artist for 2016 with a fan base always growing, thanks to his fresh music offerings.
While Poppi is very loved in his native Jamaica he is also very popular in USA, Canada, UK, Africa and Europe making him no doubt a big star. With his latest tune "Weed Is My Best Friend" he will connect to more fans internationally and this tune is guarantee to become a big hit for years to come.
Play the official music video for "Weed Is My Best Friend" posted below and scroll down to sing along with the full  lyrics  and grab this ever vibrant song clicking on the Apple Music banner posted on this page.
POPCAAN 'WEED IS MY BEST FRIEND' MUSIC VIDEO

---
POPCAAN  "WEED IS MY BEST FRIEND" LYRICS
---
(Intro)
Nuh trust friend
Nuh trust devil
Dem a pree hard
Fi yo get pebble
If you nuh trust bass
Nuh trust treble
Human-being nuh trustiable
If mi moving antisocial
And real gangsta nuh beg bwoy weed
Buy wi buy
(Chorus)
Anyhow I don't beg friend no
Weed is my best friend
And mi nuh waan si no next friend
Caw weed is my best friend
Some bwoy weh a talk and a lip mi nuh trust dem
Weed is my best friend
You know, weed is my best friend
(Verse 1)
Weed a mi best pawdy
Mi best chargy
Right now it legal no feds cyaa charge mi
Everyday 6 pound in a the audi
Right now REJ dem a escort mi
If mi nuh have ganja mi nuh happy
A the chalwa mi a g load up shortly
No bwoy at all cyaa try extort mi
Man a war head like Lenard Barkley
(Repeat Chorus)
(Verse 2)
Call mi frossbox
But nuh seh nothing if you get a loud box
Mount a high grade weed weh mi load up a country
Right now dem cyaa si me caw mi higher than a plum tree
And the hot BC in a the weed just a shot like a pumpi
If mi moving antisocial




And real gangsta nuh beg bwoy weed




Buy wi buy
(Repeat Chorus)
(Repeat Intro)
(Repeat Chorus)
(Repeat Verse 1)
(Repeat Chorus)
real deal