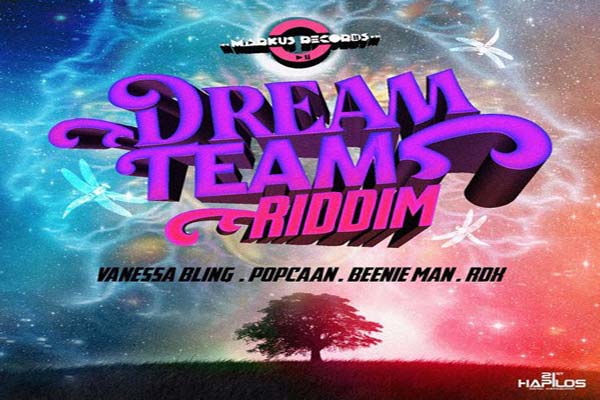 Vibe to a new vibrant dancehall reggae riddim coming out of Jamaica, called Team Dream Riddim and produced by Markus Records, owned by Buju Banton's son.
Featuring a fresh line up od Jamaican recording artists including Popcaan and Vanessa Bling, Team Dream riddim also boasts Jamaican superstar Beenie man & RDX duo newest songs.
Popcaan and Vanessa Bling also known as Gaza Slim, are both young Jamaican artists launched to stardom by incarcerated World Boss Vybz Kartel that signed them to his Portmore Empire in 2009/10.
Since Kartel's disbanded his empire in 2012 Popcaan started a very successful musical career and his now a veteran and a star of his own while Gaza Slim went back to her first and softer moniker of Vanessa Bling. 
Team Dream riddim includes in the title an implicit reply to a Slimatic's song voiced over Keynotes riddim where Slimatic was referring as the new gaza artist that stayed loyal to Kartel, the dream team in a Bigga Don Don produced riddim of few years ago that is still hot like fire and you can still stream in full here.
Listen below to Markus Records latest dancehall reggae music riddim – Dream Team riddim mix and check the full track listing for the full riddim availble for a promo download below in zip format.
Listen To Dream Team Riddim Mix – Markus Records – June 2017
Dream Team Riddim Tracklist – Markus Records – June 2017
01 – Beenie Man – Astronaut
02 – Popcaan – Up Forever (Raw)
03 – Popcaan – Up Forever (Clean)
04 – RDX – Traffic (Raw)
05 – RDX – Traffic (Clean)
06 – Vanessa Bling – Best Friend (Raw)
07 – Vanessa Bling – Best Friend (Clean)
08 – Markus Myrie – Dream Team Riddim (Instrumental)
real deal