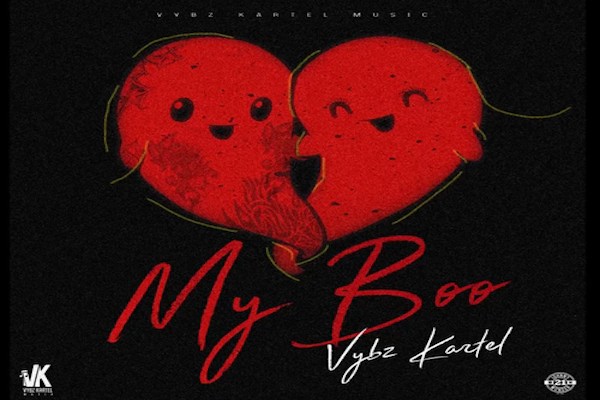 Incarcerated 1 Don of Dancehall music Jamaican superstar Vybz Kartel scored a new hit single for this beginning of 2018, titled "My Boo" and produced by his new imprinting Vybz Kartel Musik label.
Vybz Kartel has been pleasing his fans with a lot of anthems and dope dancehall reggae songs through the whole past year and he has some big new tunes coming out for 2018 "My Boo" is one of them, a super lyrical dancehall song, check the full lyrics of "My Boo" scrolling down.
There are strong rumors circulating since last year that
Vybz Kartel will be releasing a new album in 2018 featuring more new songs as well as some of his recent biggest hits.
This new year marks finally also the re-opening of Vybz Kartel's trial. Kartel and his co-accused will appear before the court this upcoming July 9 2018 for the start of the Jamaican deejay's appeal trial.
 Vybz Kartel, that has been behind bars since the end of September 2011, has been recently been visited in jail by Sean Kingston, you can read the full story clicking here. Sean Kingston found World Boss in good health and high spirit and ready to get down to some serious business for 2018.
Vybz Kartel 's fans, his loyal Gaza Nation, the whole dancehall music community are missing some of their most iconic artists and house hold names in dancehall reggae music like Buju Banton that will be free in 2019, their Vybz Kartel and also legendary Ninja Man that was hit with a life in prison's sentence, same as Vybz Kartel, leaving music and fans orphans of some of the favorite deejays of the people.
While awaiting for Vybz Kartel's appeal trial listen to Kartel's new music single for 2018 "My Boo" posted below, already available on iTunes you can get it clicking on the iTunes banner on this page.
Listen To Vybz Kartel – My Boo Produced by Vybz Kartel Muzik 
VYBZ KARTEL "MY BOO" LYRICS
See the gyal dem…
You mek me cocky say, "Whoa!"
Yes, you could a be A E I O U
I want you for my boo, I want your coo to meet my crew
Like husband need his wife, that wifey need husband, easy does it
Bend over, girl, the Teacha need your loving
Wanna be, wanna be, wanna be, wanna be, wanna be, wanna be my boo
Wanna be, wanna be, wanna be, wanna be, wanna be, wanna be my boo
Your pussy fat, your batty cock, you're so fucking cute
And I will never ever, ever, ever, ever diss you
Wanna be, wanna be, wanna be, wanna be, wanna be, wanna be my boo
Wanna be, wanna be, wanna be, wanna be, wanna be, wanna be my boo
Your pussy fat, your batty cock, you're so fucking cute
And I will never ever, ever, ever, ever diss you
Gyal, you're special, relativity, whine like rum
Bet you say your pum pum drunk
Mek me see the meat, mek me push it in, hmm
Slam dunk Jordan's 23, hmm
Baby, you got the key fi me heart
And the key fi me house, key fi the bully beef, close
Money, that a the least, me cocky a go sweet you
Red rise, true beef beat rude
Wanna be, wanna be, wanna be, wanna be, wanna be, wanna be my boo
Wanna be, wanna be, wanna be, wanna be, wanna be, wanna be my boo
Your pussy fat, your batty cock, you're so fucking cute
And I will never ever, ever, ever, ever diss you
Wanna be, wanna be, wanna be, wanna be, wanna be, wanna be my boo
Wanna be, wanna be, wanna be, wanna be, wanna be, wanna be my boo
Your pussy fat, your batty cock, you're so fucking cute
And I will never ever, ever, ever, ever diss you
When me say boo, me no mean, boo 'pon stage
Your body just so clean, firm like shirt tuck in
Your bleach a your chrome, your black a your tone
Love you and your own, love you regardless
Custom… that's my department
Babes, my apartment, just keep on calling
I mean it's marvellous, waan fi fuck you there
Tell you… fuck and get out a there
Wanna be, wanna be, wanna be, wanna be, wanna be, wanna be my boo
Wanna be, wanna be, wanna be, wanna be, wanna be, wanna be my boo
Your pussy fat, your batty cock, you're so fucking cute
And I will never ever, ever, ever, ever diss you
Wanna be, wanna be, wanna be, wanna be, wanna be, wanna be my boo
Wanna be, wanna be, wanna be, wanna be, wanna be, wanna be my boo
Your pussy fat, your batty cock, you're so fucking cute
And I will never ever, ever, ever, ever diss you
Go get me gun load and a pretty browning
She know me full a gyal, but she know the road code
So she say she love me when me happy we there, she say me so cute
When me vex with her, she say me ugly
But she never gon' leave, yeah, opposite attract, yeah
Gucci 'pon me foot, Versachi 'pon me neck, yeah
Send you to the store, when me couldn't go before, get
Anything you want, now me rich, no longer poor
Pull up on… fuck you fi the whole day
Draws and buss it like a court case
Addi have a…
Wetter than the… life short, short, short
Haffi mek a nice time, yeah, you have a man
But him boring, him boring
Mek me ask you something
real deal