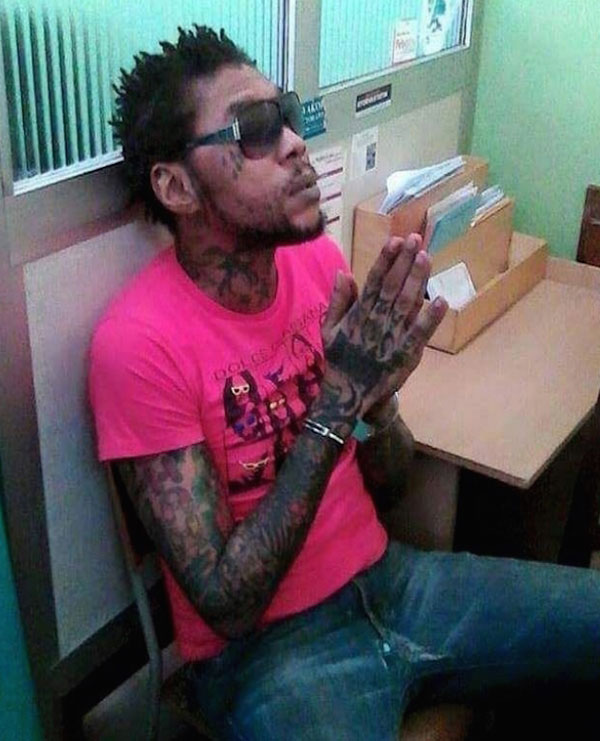 Family, friends, Gaza nations fans and everybody that was feeling concerned for Vybz Kartel's latest health scare can finally cheer up and breath.
World Boss Vybz Kartel, real name Adidja Azim Palmer, has been dismissed from the University Of West Indies Hospital and as for the latest reports his body has been responding positively to the treatment.
His family and friends are concerned anyway because Vybz Kartel has never been sick before, he didn't have any health concerned about his kidney before last Sunday and while he has been brought back to his jail cell, a lot of tests have been run on his blood and also a number of other tests, results should start coming in the next days.
The main fear is some conspiracy to hurt the Worl Boss while he is jail, especially now before his appeal will start and to possibly stoping him from going to his appeal. A couple of years ago somebody tried already to poison Vybz Kartel while at Horizon Centre, the plot was discovered and brought to light with an investigation, read the full story here, so the main fear is that somebody could want to hurt him and even if the doctors are saying his body responded positively to the treatment too many questions on his health are still pending.
His somebody tampering with his food and liquids?
Vybz Kartel fall sick this past Sunday night in his jail cell accusing excruciating pain. After trying to medicate him with the help of medical staff at the prison he was transported at the University of West Indies Hospital on Monday morning, where he was diagnosed with kidney infection and dismissed this past Thursday when he was escorted back to GP jail facility in Kingston.
During his stay at the hospital Kartel received his parents visit and witness the outpour of love his fans, GAZA NATION, have for him, with messages wishing him well coming in from all over the world.
More recently several US stars has been seen dancing to his songs, posting snap chat videos or IG videos singing his songs, among them young hip hop star Cardi B, that has a lot of love for Jamaica and mad Caribbean connections, as well as rapper Tyga and  singer Rita Ora and the list keeps going on, making Vybz Kartel's name always relevant and legendary among his supporters which have the biggest respect for a man, that even if behind bars for more than 6 years, had so much pre recorded material to become a sort of legend in the music business.
Vybz Kartel and co-accused will appear again before the court for their upcoming appeal that will start on February 10 2019.
Entertainment Report: Vybz Kartel Kidney Infection Update
real deal