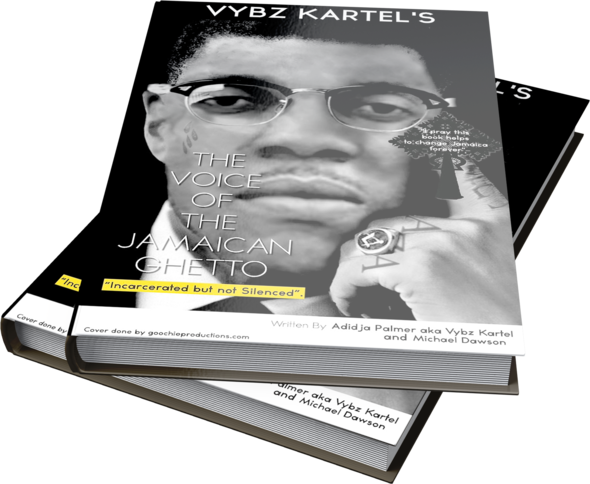 VYBZ KARTEL'S BOOK RATED #1 ON AMAZON.COM IN THE CATEGORY OF CARIBBEAN AND WEST INDIAN HISTORY
Vybz Kartel's book The Voice Of The Jamaican Ghetto also reached Number 3 on Amazon Best Seller List for its Category
MAKE SURE TO READ THE FULL STORY CLICKING ON NEXT AT THE BOTTOM OF THE PAGE
Have you read Vybz Kartel's Book as yet? Did you realize that it was laden with historical facts and statistics?
Like many, you may have dismissed the book but according to the statistics and reviews on the web-site of World Leading retailer

Amazon.com, you are missing out.
Yes, the book co-written by the controversial DJ whose music is often banned from air-play, the book that was reportedly refused by Christian and "uptown" book stores in Jamaica; the book that many said
would never be successful is still growing in readership more than two years after it was first published! The book has been catalogued by the US Library of Congress,acquired by Princeton and Yale Universities, named to the Black Radical Reading List and introduced as recommended reading by many University Professors particularly in the field of History and Cultural Studies.
Perhaps this is the biggest literary milestone for the Dancehall legend as he now has a book listed by Amazon.com as the Number 1 Top Rated book on West Indian and Caribbean History on its site.
Hence after three years of incarceration Vybz Kartel tops the airwaves in the Caribbean and now his book has gone as high as Number 3 on the Amazon's Best Seller list for Caribbean and West Indian History.
The validation must be even more rewarding for the Dancehall DJ, now reportedly in the advanced stages of preparing his Appeal, because it comes from readers who bought the book and not from any marketing efforts or the notoriety of the renowned co-Author – in fact, many reviews emphasized the staunch dislike for Kartel, but there were still a number of recommendations for the book to be taught in schools and to be read by every Jamaican, particularly young ones.
A November 30th, 2014 snapshot of an Amazon.com page depicting the books Number 1 position shows Kartel's book beating the Random House Published book about President JFK – One Minute to Midnight, into the Number 2 spot.
When one considers that Random House is one of the most prestigious Publishers in the world whose credits include publishing the great John Girsham and the recent book by President George W Bush, Jamaicans would have felt a sense of pride if it were any other authors of < Jamaican birth particularly because the category which for which the co-authors are number 1, includes writers from French, Dutch and Spanish territories. However, it is expected by the Publishers that the dislike for Kartel by a certain sector of Society will lead to a campaign of discrediting the accomplishment rather than encouraging youngsters to read and learn from the many life lessons that Kartel offers through his experiences good and bad.
Kartel's co-Author who recently returned from a tour of Europe where the book has had the most success, was very humbled but admitted their focus and success continues to be outside Jamaica.
real deal